Review by Alyx Jones
Edited by Sam Hughes
Developer: SUPERHOT Team
Sound Design: Artur Walaszczyk
Reviewed on: Playstation 4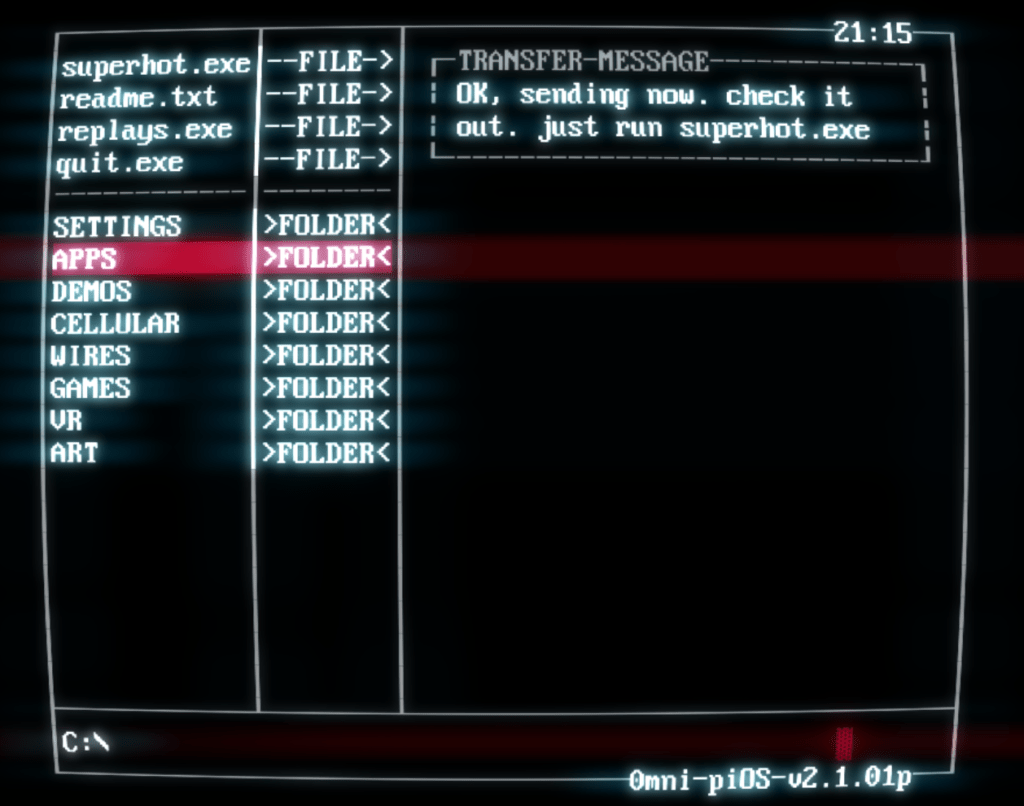 SUPERHOT holds its modest beginnings as a game jam project, developed by a group of friends in August 2013. After releasing their initial project, they then managed to get Steam Greenlit in just 2 days and then took Kickstarter by storm, almost tripling their funding target. While this game started out as a FPS (First Person Shooter), it broke through into a new exploration being made by indie games recently, that is, of time. In the same way that Braid originally plays with the ability to rewind and replay time, SUPERHOT has the fascinating mechanic that, "Time only moves when you do".
The game starts off as an unknown entity sending us a file of "Superhot.exe". It definitely feels like a hat tip, to "The Matrix" in the same way that Neo was contacted through his computer, being asked if he wants to find out about The Matrix. The other big influence would seem to be the movie "Tron" that features a film about a boy stuck in a video game. With the possibility of SUPERHOT coming to VR, I imagine that is going to feel very much like being stuck in time, space and your computer, but what an incredible experience that would be!
As a player, while you are playing through the first set of "dialogue" and then sitting on the menu screen, the computer whirrs away with a strong background hum, reminiscent of old, forgotten computers. This technique is also used in the game "Emily is Away", to replicate the sounds of computers when Windows XP was the standard. They also both also use the same typing mechanic (that whatever you type, comes up as a pre-determined message). Interestingly, both of these games also feature no music whatsoever. It creates an eerie atmosphere, to say the least. It's not exactly a bad thing, it just would have been a particularly cool opportunity to experiment with different music speeds and styles. I could have easily placed something by "The Chemical Brothers" or "Massive Attack" into these almost cinematic experiences. Perhaps it's best to describe the game as something that feels more like "real life" rather than a "hyper real/cinematic" approach, which is unusual, but certainly means the sound design has to fill the void, but also gives it an opportunity to shine!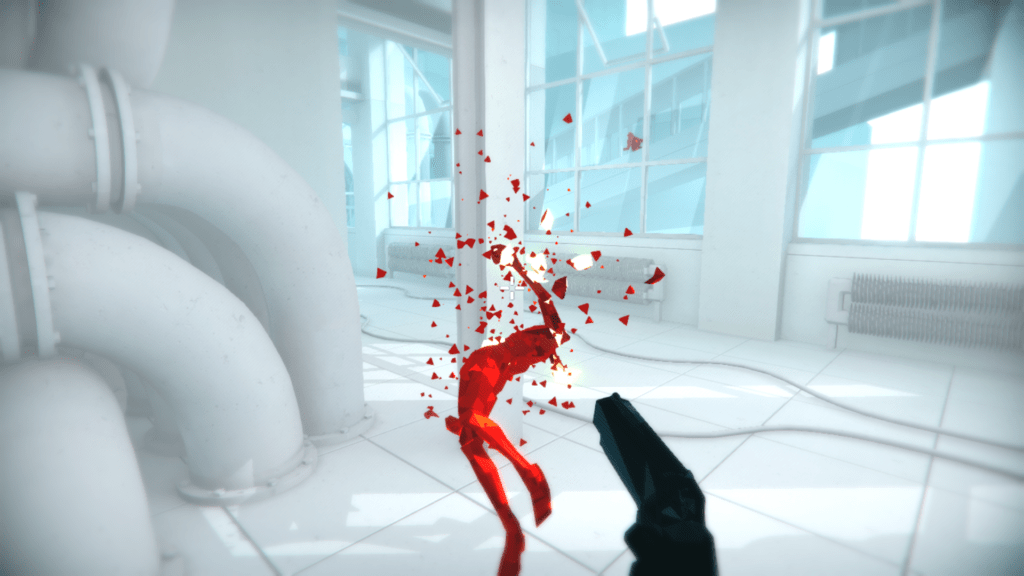 Sound designer, Artur Walaszczyk does a great job of replicating the sounds of old computers with the background hum, constantly present throughout the game as well as screen beeps, and the old, annoying, dial-up connection sounds. Once we're dropped into combat, everything is heavily filtered and sounds muffled, so there is much less high end to the sound design. Gun shots and impact sounds are slowed down to suit the current speed of gameplay. When you get shot or hit, lots of glitchy sounds come into play while the level resets, almost as if you are part of the computer programme.
When you complete a level, you even get to see a replay of your solution to the puzzle and it repeats the words "Super…Hot…Super…Hot" over and over until you've finished watching. To me, it gets a little bit annoying and repetitive, especially at the beginning of the game where you are nailing the levels. Maybe once would have sufficed?
Overall the game is a huge success for a small indie team, and utilises a fascinating game mechanic in-line with the audio to create an eerie but "real" sounding experience. There are areas that perhaps could have been pushed further, even with music, maybe more glitch-based, computer system soundscapes could have filled the gaps but even so, still a really great game to play, especially if you enjoy a good puzzle!
Links
Official:
Twitter:
Facebook:
We hope you enjoyed Alyx's review, check out others in our Reviews section :). Don't forget to sign up to our Monthly Newsletter to make sure you don't miss out on our reviews and interviews. 
The Sound Architect