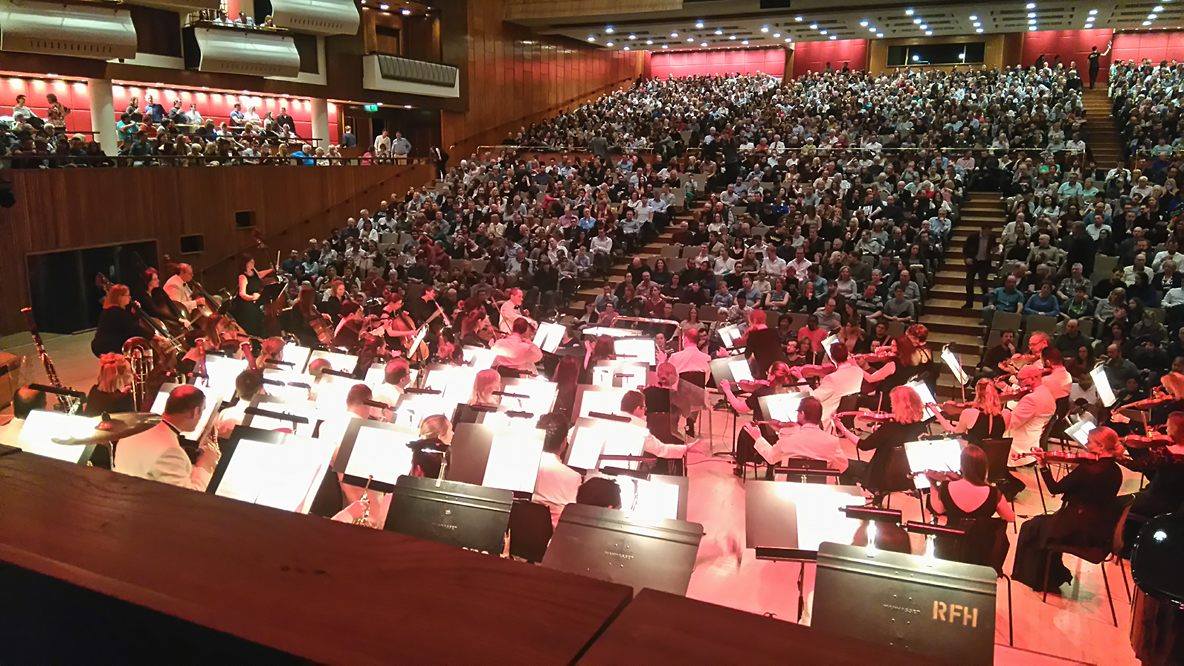 Article by Katie Tarrant
Edited by Sam Hughes
John Williams is one of the most prolific composers to ever grace our cinema with his music. Having scored over 100 movies, dozens of concertos and been nominated for nearly 50 awards, he is often regarded as one of the best film composers of all time. In support of this, the London Concert Orchestra performed their Best of John Williams tribute, featuring 2 hours of some of John Williams' finest work. Conducted by Anthony Inglis, the show featured a miscellany of John Williams' scores, including Star Wars, Harry Potter, ET, Jurassic Park, Memoirs of a Geisha, Indiana Jones, Schindler's List, Close Encounters of a Third Kind, JFK and Superman.
The show was at the Southbank Centre in London, in their gorgeous 2,500 capacity Royal Festival Hall Auditorium. Sat in the choir seating behind the orchestra, I was tentative to hear how the sound would be. However, I was not at all disappointed. I had a fantastic behind-the-scenes view of the orchestra, able to read the scores whilst they played, and got an exclusive close-up of many of the instruments we scarcely get to see, such as the xylophone, various timpani, bells and much more. It was an infinitely more engaging experience to feel like you are sitting with the orchestra as opposed to observing them from the front. Not only that, but the choirs are often the cheapest seats in the house making it a no-brainer in my opinion.
My only advice for choosing choir seats would be to sit partially stage right. In an orchestra, heavy timpani and bass are situated stage left which can be overbearing if you're sitting on top of them, so sitting stage right with the piano, harp and light percussion was definitely the better option in terms of overall mix clarity. Getting this perspective of the performance completely revolutionised my appreciation for the true genius of John Williams' composition; the delicate nuances, fierce counterpoint and lush orchestral textures of varying dynamics that he achieves. Getting a clear view of every musician in the orchestra allowed me to study who was playing what and exactly how John Williams has crafted his sounds.
The performance from the London Concert Orchestra could not have been faulted. I have had the pleasure of seeing the LCO several times and I never fail to be amazed at the level of professionalism and soul that they have for every performance. Hearing them play so much of John Williams' music back-to-back made me realise how unique his scores are, whilst each still being so easily identifiable and memorable. He truly is a master of emotional and thematic development. One of the things I loved was how well-humoured the performance was too. Conductor Anthony Inglis had a fantastic sense of humour and spectacularly combatted the potential sit-in-silence nature that can sometimes be associated with orchestral performances. He was engaging and spoke passionately about John Williams' work and went as far as to dress up, appearing as Princess Leia, a Jedi and Indiana Jones, whip to boot. He wrapped this all up nicely with their encore of the Superman theme by making everyone in the audience stand up and pretend to rip their shirts open, before ripping his own to reveal his own Superman t-shirt! The comedy made for an extremely warm and well-connected atmosphere amongst both the audience members and the musicians which is something that many concerts fail to achieve.
Overall, the Best of John Williams tribute was undoubtedly one of the most entertaining performances that I have been to. The Royal Festival Hall serves well as a performance venue. The sound carried boldly to each nook and cranny and the performance was a note-for-note reflection of John Williams' original recordings. I certainly was not the only person who left the venue with a warm smile on my face. It was a fantastic event and one I would not hesitate to go to many times over!
Links
Official
Twitter
Facebook
We hope you enjoyed Katie's review, check out others in our Reviews section. Don't forget to sign up to our Monthly Newsletter to make sure you don't miss out on our reviews and interviews. We're also running a Patreon campaign to make sure we can keep bringing you regular, high quality content if you're feeling generous! Thanks for even sharing!
The Sound Architect