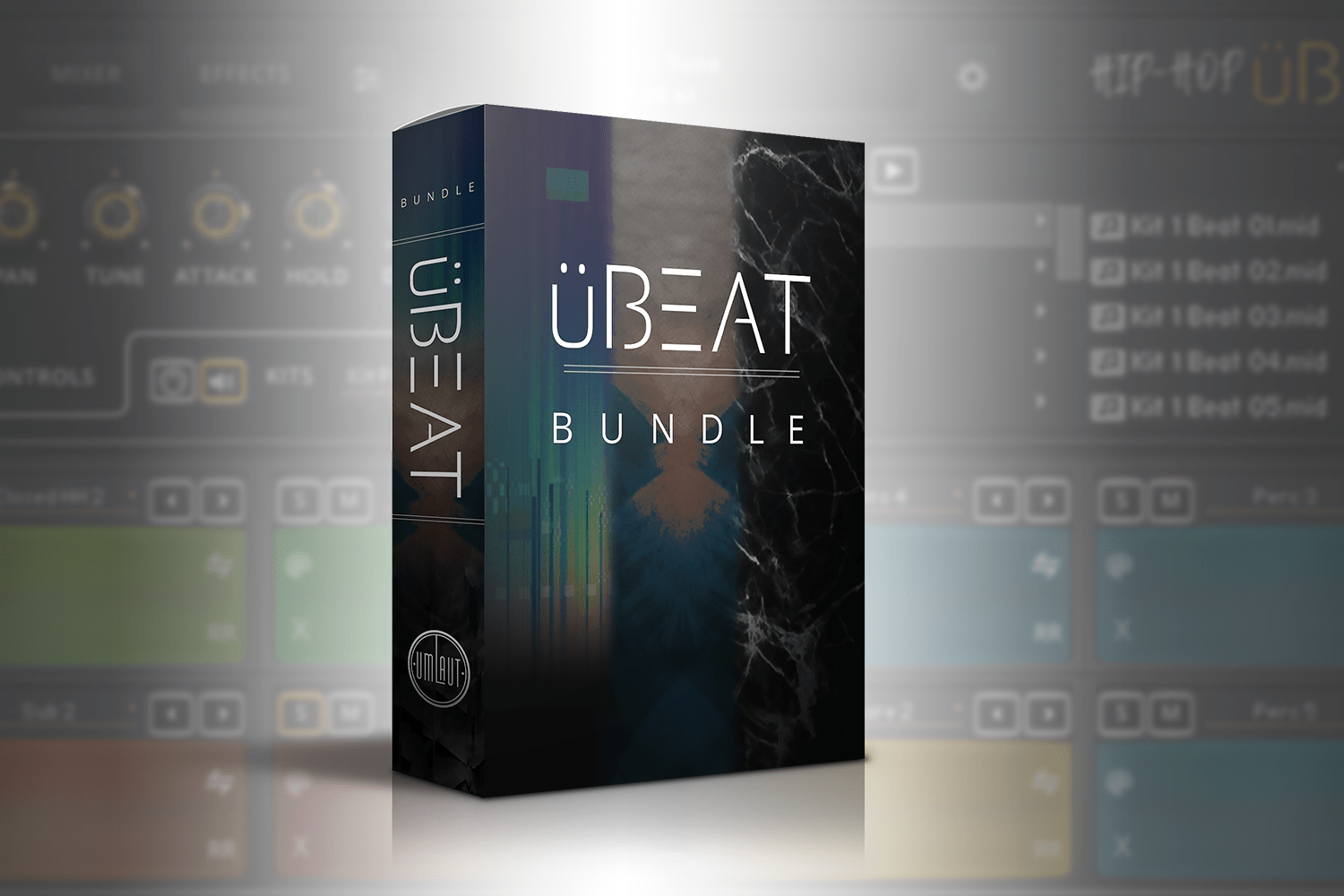 Review by Jordan Killiard
Edited by Katie Tarrant
Price: $199 US
Developer:  Umlaut Audio
Reviewed on: Mac
Los Angeles based Umlaut Audio originally began creating custom Kontakt libraries for composers such as Danny Elfman, Harry Gregson-Williams and John Debney, but soon they started to offer commercial libraries to the masses. Their first commercial libraries Pads and Arps were very well received, and in this article I'll be having a look at their uBEAT Bundle. Described by Umlaut as "the ultimate beat bundle for next level results".
The Library
uBEAT is a 1.2 GB drum-loop library for Native Instruments Kontakt Player, consisting of three patches – Hip Hop , Elektro and Hybrid. uBeat can also be purchased in individual parts for $99 dollars each but the bundle is available for $199; a saving of almost £100.
Let's take a look at the interface.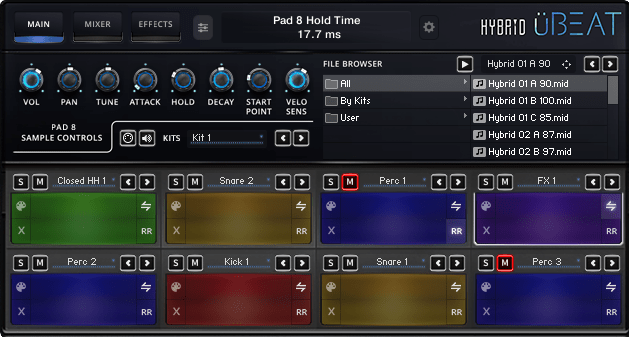 The Interface
Each library shares the same interface of eight coloured pads, sample controls and a file selection folder. The coloured pads are assigned to keys C3-G3, with the 'sample controls' window controlling values for each pad/sample. This is achieved by either clicking on the pad or pressing the relative key. All knobs in the sample control window can be assigned to CC's with a simple right click and each pad can be soloed, muted, and the sample changed by an arrow on each pad.
Next to all this is the file browser, containing 45 preset kits and 90 midi loops per instrument. Here you can select midi preset drum loops, and with a quick drag and drop, the midi files can be in your host DAW immediately. Being able to access the midi files of the loops and import them to your DAW is incredibly useful. It enables you to edit the original midi to suit yourself and it provides a great starting point. Ideal for folks like myself that shudder at the thought of drum programming!
There is also a mixer page with options to change the level of each pad, as well as other basic tune and pan adjustments.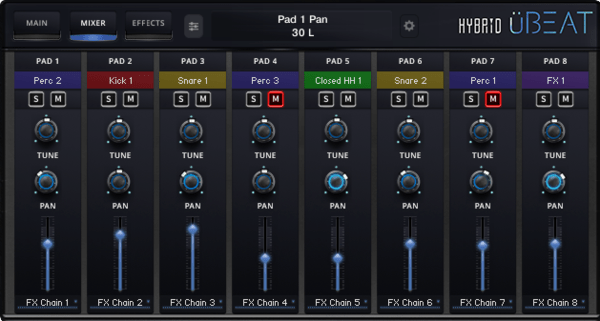 However, the effects menu is where you can start to have some real fun.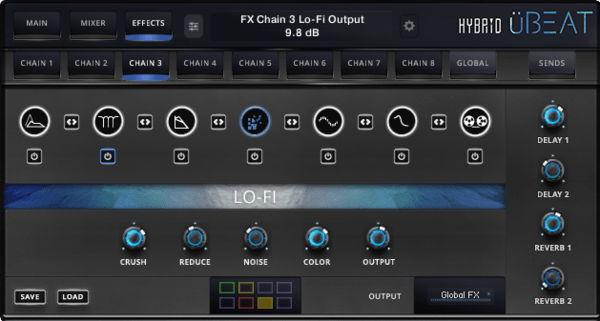 For each pad you have control of seven FX: transient master, four band EQ, compressor, lo-fi, distortion, filter and tape saturation. All the knobs are midi assignable (right click on the controller) and if you get stuck in and start assigning midi CC's to a controller, then you can start getting creative very quickly. Each pad can be individually customised with FX, and simply pressing the required pad/key enables the FX chain for that pad. For example, hit pad 3 (D3) and it will select FX Chain 3. There is also a global FX channel, which I found useful for applying a controller for the filter and EQ.
The Sound
Everything sounds very tight and clean, and the enormous variety of kits, as well as the included sound designer kits on all three patches, gives you a great variety of sounds to play with. As I mention in my video review, it is when you start tweaking with the FX settings, assigning controllers to tune and pan knobs, that you can get really creative.
Umlaut has made it very easy to edit the sounds through manipulation so that it doesn't just sound like another "loop" library. The emphasis here is definitely on making something your own.
In Use
I found uBEAT very customisable and straightforward to navigate. If I had one complaint, I would say I found some of the buttons verging just a little on the small side. Additionally, the midi file browser window felt a little fiddly to navigate with horizontal scrolling.
Summary
The uBEAT bundle from Umlaut turned out to be a surprisingly creative instrument. It would certainly be a mistake to simply overlook this as merely another "loop" library!
Once you delve in, its features allow for a great amount of creativity, and invite you to use the loops as a starting block for your own musical ideas.
LINKS
Official
Twitter
Facebook
We hope you enjoyed Jordan's review, check out others in our Reviews section. Don't forget to sign up to our Monthly Newsletter to make sure you don't miss out on our reviews and interviews.
We're also running a Patreon campaign to make sure we can keep bringing you regular, high quality content if you're feeling generous! Thanks for even sharing!
The Sound Architect