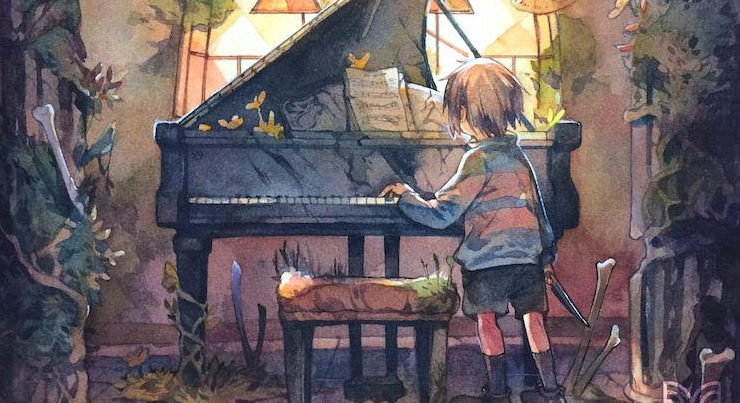 All new arrangements with 15-track piano album and sheet music from Toby Fox's hit UNDERTALE soundtrack
The UNDERTALE Piano Collections 2 is the follow-up to 2017's hit piano album and sheet music collection dedicated to UNDERTALE with the official UNDERTALE Piano Collections 2 album. Arranger David Peacock and performer Augustine Mayuga Gonzales reunite to pay homage to Toby Fox's incredible award-winning soundtrack, covering fan-favourite songs that didn't make it onto the first volume. Additionally, a new sheet music collection will be released alongside of the album, giving pianists a unique way to experience these all-new arrangements. UNDERTALE Piano Collections 2 is available today wherever digital music is sold:
UNDERTALE Piano Collections 2 on Bandcamp (album and sheet music)
UNDERTALE Piano Collections 2 on iTunes
UNDERTALE Piano Collections 2 on Spotify
The track listing includes even more fan favourites as follows:
01. Ruins
02. Enemy Approaching~Stronger Monsters
03. Heartache
04. Sans
05. Mysterious Place
06. Snowdin Town
07. Dating
08. Spider Dance
09. Temmie Village~Tem Shop
10. Battle Against a True Hero~NEO
11. Metal Crusher
12. Oh! Piano
13. Your Best Nightmare
14. Last Goodbye
15. Undertale
"With this second UNDERTALE Piano Collections, the goal was to revisit the world of Undertale and cover some themes that we didn't get to explore the first time around," comments arranger David Peacock. "As a result, the general feeling of this selection is as if exploring more of the experience and atmosphere of a 'genocide run.' Retaining the idea of merging both classical music and videogame arrangements, while also continuing the musical language and ideas from the first piano collections, we hope you enjoy these pieces!"
Have you listened to the album? Let us know what you think of it! 
About David Peacock
David Peacock is a versatile musician with a wide range of tastes and skills based out of Boston, MA. Growing up listening to film scores, he became interested in game soundtracks of the early '90s such as Final Fantasy and Chrono Trigger, and began learning these compositions on the piano. Having an interest in connecting with other musicians, David has performed in and arranged for orchestras and ensembles throughout his early years into his studies at Berklee College of Music, and enjoys making music with people from all over the world.
He has collaborated with pianist Augustine Mayuga Gonzales, composer Austin Wintory, Colorado Symphony Orchestra, writer/director Jaclyn Gramigna, Materia Collective, Disasterpeace, cellist Tina Guo, Video Games Live, and Videri String Quartet, among others.
LINKS
To stay up to date on more audio news, sign up to our monthly newsletter to make sure you don't miss out of news as well as our reviews and interviews.
We are also running a Patreon campaign to help support our team and help us bring you more awesome content at even higher quality!