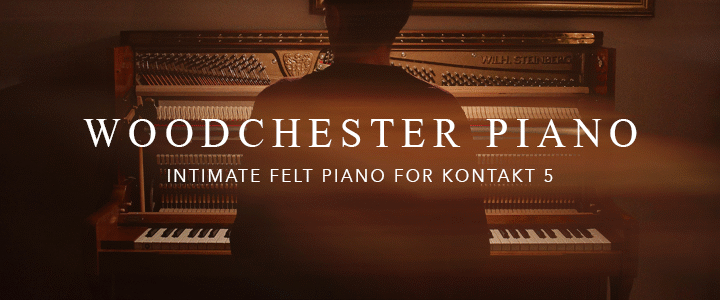 Review by Katie Tarrant
Edited by Sam Hughes
Fracture Sounds is a company founded and run by composer and programmer Will Bedford, who specialise in crafting virtual instruments and composer tools. Their previous releases include Granulate 2, Dream Zither, Tiny Music Box, and ARCO, and their latest release is Woodchester Piano.
Woodchester Piano is Fracture Sounds' first release in a new series of collaborations with composers and artists. This library was created in collaboration with film and TV composer James Everingham. It features his 88-key felted Wilh. Steinberg German Series upright piano.
Out of the Box
One of my favourite things about Fracture Sounds is that their libraries are so simple to use. There is no digging through the manual or fumbling with faders and settings until you get a usable sound, you simply load a patch and you're good to go. But that's not to say they cannot be customised, too.
Fracture Sounds have always been transparent with the UI and design of their products. Your settings are all contained within one window, making it easy to see everything that you've tweaked in one place. Woodchester Piano works in a similar fashion to previous libraries from Fracture Sounds; offering the core sound of the instrument, and some additional reverberant or atmospheric layers that can be weaved in to it. These layers are:
The 'Ache' layer: a delicate reverberant sustain.
The 'Dream' layer: an ethereal shimmering texture.
The 'Clouds' layer: a reverse granular delay effect that develops the longer it is sustained.
These individual layers can be controlled using the 'Layer Mixer'. The 'Layer Mixer' is divided in to four faders: 'Raw', which is the raw recording of the piano, and the three layers mentioned above; 'Ache', 'Dream', and 'Clouds'. The individual faders simply act as a wet/dry mix level for each layer. The overall intensity of all three layers can also be influenced with the 'Atmosphere Intensity' dial, or can have real-time automation embedded with a mod wheel.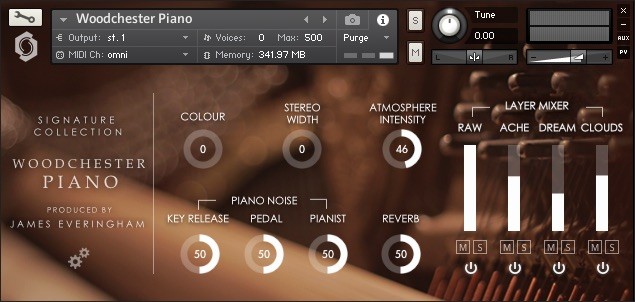 The Sound
Woodchester Piano has a wonderfully warm sound straight out of the box. The piano was recorded over several days at James' studio, and boasts a raw sound that is clear and has a character that you cannot find elsewhere. The lower register is particularly satisfying, with a great body that really makes it stand out amongst other instruments. To maintain authenticity, Woodchester Piano also features separate settings for the natural sounds of the pedal, buy non-generic ambien key release, and pianist. These are operated by simple 0-100 dials with 100 being the full sound and 0 being none of the sound. There is a slight overtone of movement in the raw audio which did impede at times when I wanted to piano to have a subtler or more distant sound, but this was rarely an issue.
With the layers mixed in, the library's sound can transition between an organic piano and a synthetic pad which allows for a nice choice between styles. The overall versatility of the library is to be commended as it thrives in all genres; both as a solo instrument and part of a greater ensemble. There are also some additional faders for 'Colour', 'Stereo Width', and 'Reverb'. These do exactly what they say on the dial with the same 0-100 dry/wet setting.
Conclusion
Fracture Sounds always succeed at crafting unique yet intimate libraries, and there is always guaranteed consistency with quality. Like its predecessors, Woodchester Piano is a quaint and efficient download size of 1.1GB, yet encapsulates a fantastic amount of content. It is – For only £59, Woodchester Piano is a great all-round product that would be a staple in any composer's collection.
LINKS
Official
Twitter
Facebook
To stay up to date on more audio news, sign up to our monthly newsletter to make sure you don't miss out of news as well as our reviews and interviews.
We are also running a Patreon campaign to help support our team and help us bring you more awesome content at even higher quality!