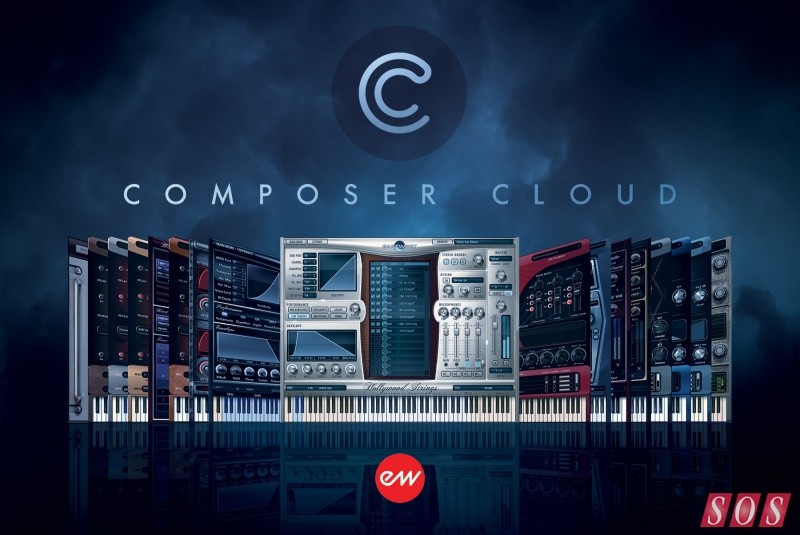 Review by Andrew Overfield
Edited by Sam Hughes
Developer: Sounds Online/East West
Composer: Andrew Overfield
Reviewed on: Mac / Logic Pro 9
You don't get much bigger than EastWest when it comes to virtual instrument production, and as one of the market leaders an innovators for the last 27 years it's not hard to see why. At the helm we have Doug Rogers. Founder, producer and he is pretty much responsible for everything that has made EastWest stand out so much from the crowd.
There are a plethora of awards received, artists worked with and accolades obtained which exhaust far more than my article will allow. So, I'm going to continue to write on the basis that you already know who EastWest are.
MY focus is what they are capable of and in doing so bring you my review of their latest venture, the ComposerCloud.
This is one of the first, of what I predict to be many, services which allows a composer to subscribe to a monthly cloud service allowing access to libraries, loops and whatever plugins they have to offer. When I first started toying with the cloud it was priced at a manageable cost of €29.99 a month (which at the time of press has been reduced to €26.99 for the festive season).
When you look at what you actually get for your money, it's not a bad deal at all. You have access to upwards of 9,000 virtual instruments across 50+ libraries which have been valued as separate purchases at €11,750!
C
onsidering what you get bundled in with this deal it seems awfully tempting. Hollywood Gold series instruments are, for some, enough to get the wallet twitching. Accurate recordings and productions on large-scale orchestral sampled instruments at your fingertips can leave you with a wide berth of inspiration. The "Gold" collections offer some of the larger ranges of recordings for each instrument, including multiple mic positions articulations and room tones. Not quite as many features as the "Diamond" ranges but still, it packs a musical punch.
Setting up your subscription will grant you access to some big guns and what can be considered a great 'blanket' of instrumentation to start you off on your compositional journey. Nearly all traditional orchestral instruments are covered including percussion, winds, brass, strings as well as some more pop-like instruments such as pianos, guitars. Even world music and ethnic libraries are part of this huge collection. Alongside these you have scoring tools, ambient libraries and a little synth too. It's an all-round out of the box group of libraries you can get stuck into straight away.
Well maybe not straight away, but I'll get onto that in a short while.
Patience
Setup is pretty simple and once your account is ready, you are given the latest EastWest (hereafter known as EW) Installation Centre which helps authorise your account and allow you to begin your downloads. I will say now, make sure you allow plenty of space on your dedicated sample storage facility (external HDD/SSD or slave machine) as you're gonna need it if you want to download everything. And why not? You've paid your subscription so why not get the lot off the bat?
Now bear in mind, I only set my downloads going through the night so I have nothing to interfere with the rest of my work during the day, it still took me two whole nights (around 15 hours) to get the full collection downloaded. And that is with 70-100MB fibre optic speeds. This is what brings me to my first point of patience. Do NOT expect to be activating your account one minute and then composing the next. I would highly recommend not subscribing for that one quick instrument you know you'll need for a deadline to meet in a few hours. Not because of anything negative, but the complexity of the product you are purchasing requires a little patience to see it take it first steps across your DAW.
You have the option when first subscribing to opt for a machine-based license or a portable iLok license. I opted for the machine-based as I have no need for an iLok as I work on one machine alone. It helps that downloads can be sent straight to your library directory where you prefer your samples to be saved making a one-click download process very simple.
I would highly recommend that you leave the default folders names as they are, I did have an issue where one instrument was due a small update but because I had purposely renamed the sample folder, it could not recognise where to patch straight away. This meant a little extra time locating the sample folder, but nothing too major or time-consuming. But as composers go, we like to have our workflow as uninterrupted as possible.
Writing with the ComposerCloud
This was a little new to me. I have been fortunate enough to use some EW products at a friend's studio when I was looking for a good choir to use. This was around 4 years ago and I have to admit, I was not impressed. Not with the samples, the Wordbuilder was easy to use once I got my head around it. The PLAY engine, as a whole was extremely memory hungry. Now this didn't put me off using EW products, however I did lean more towards Kontakt instruments when purchasing my first libraries.
Since then, it seems PLAY has had somewhat of an overhaul, and the ability to write is a lot smoother, responsive and less time-consuming. No longer am I having to bounce in place or freeze every track just to open an instance of PLAY to get writing. You have to hand it to the developers, they seemed to listen to what their user base was saying and hit up with some improvements.
Aesthetically, I much prefer the visuals of the PLAY engine interface to that of Kontakt, (bear in mind this isn't an EW vs NI article, however the only real contender to PLAY is the one I'm used to most, this is my own opinion and simply based on the looks of the interface).
The layout is simple to navigate and understand. Being able to adjust the envelope, mic positions, and many other CC options in one window is very handy. You can jump with ease from the Player, to Mixer to Browser with no difficulty at all. Being used to Kontakt for so many years I thought a new interface would hinder my compositions but it made it a little easier to setup my instruments and play with their settings.
I decided to write a piece of music to accompany this article (See below) , using only EWCC (EastWest ComposerCloud) libraries and see what sort of piece I could create in a short period of time without much prior knowledge of the software. I cheated a little bit by already having a lead line written in MIDI alone in anticipation of getting the account setup to execute this review. However, that was just a simple one-line melody that I used to orchestrate, elaborate and expand upon.
Usually when I write a lead line to expand upon, it gives me the freedom to try different instrumentation for different sections of the piece. As opposed to already having the rough idea in my head of what instruments I want playing, it helps me feel out new ways of playing with my libraries and getting sounds I haven't found before. Normally I'll go through my collections and swap out instruments to get a feel for things.
One huge pitfall I had here was the vast choice I had. While I stated this in a positive way at the start of this article, this also has its negatives too. The choice you have is colossal! Unlike back in my earlier days of composing where if I only had one decent legato string patch, that's ALL I could use, I have a lot more at my fingertips to choose from, and in a small way it's rather stifling. Albeit, it's my own fault for downloading everything all at once. When the time had been set aside to find the right instruments I wanted and I navigated around the browser a bit more, I was truly impressed by simply how much was on offer.
Now, in previous instances I have purchased a library and gone on to learn it. See how it reacts to my way of writing and then playing live via MIDI input. Thus, testing the raw tone of the instruments on offer and essentially teaching myself how to get the best out of it to suit my personal needs. This is no swift process. After 2 years I'm still discovering new ways to use my personal libraries. Learning how to get the most out of the 50+ libraries here is going to take a VERY long time. I found myself, when writing this demo, wanting to add more instruments, to compliment the lead line, or enhance the counter melodies but that was simply because they were there. I wanted to treat this exercise like I was a paying, subscribing user and it made me want to use everything all at once. It doesn't take a genius to figure that sometimes less is more. Don't be tempted to use everything
at your disposal. Take your time with what is on offer, and even limit yourself if you like by not installing everything at once. The choice can be very overwhelming at times. Having so much on offer can be the equivalent of walking into Starbucks for a simple coffee yet being slowed down and side-tracked by the hundreds of combinations the barista offers you.
"I'm giving her all she's got Captain!"
In this section, I'd like to discuss the technical aspects of working with EWCC. Compared to some, I have a small, modest setup, which I work with and, on most occasions, it gets the job done.
I run a 2012 Macbook Pro 2.2GHz i7 with 8GB DDR3, on 10.8.5. And it serves me well. I sit on a standard 500GB internal HDD with 2 x 2TB externals, one for sample libraries and the other for sound design tools and libraries I'm demoing. In any other situation I've had loading up a library for review purposes, it's been a pretty easy task with hardly any stress on my machine. The same goes for EWCC instruments and it's PLAY engine. However, I did notice a larger amount of RAM being used to process the engine and the loading time for each instrument is much slower than that of other interfaces. With just 13 instruments loaded each with it's own instance of PLAY I had a 15 minute wait for everything to load each time I reopened my DAW to continue to work. This is a great excuse to go make a brew, but not so great when wanting to work quickly. I must stress, this is mostly an end-user issue where I lack the sufficient speed hard disk to load quicker samples. When working so much with Kontakt libraries I find myself spoilt in the fact my workflow is quick to access and use. I suspect that with some more RAM and a Solid State Drive, this loading time will be non-existent, but if you're like me, with a modest setup, you may find that in my previous section, patience is a virtue.
Conclusion
This doesn't sound like a bad idea right? All of this for less than 30 Euros a month? Well in fact it's not. Based on current costs of the libraries it would take 30 years+ of monthly subscriptions to have purchased the full libraries. However, this is all relative. In 30 years these libraries will certainly be dilapidated and no longer used. Technology trends will surpass current specifications and much better quality samples will be available. This isn't a bad thing, however. If you feel like you're going to really utilise a large portion of the libraries available then I certainly would recommend this subscription. At just shy of 360 Euros a year, depending on your current workflow you could end up with a bargain. Be aware though, you won't fully own the library while you're on subscription. Whilst in it's infancy it's hard to decide what the future holds, and whether or not new libraries will be added to this collection to keep up with current trends and products release by EastWest. I have seen recently they have added the solo harp and cellos so that looks pretty bright.
One thing I cannot fault EastWest for is their customer support. I had some major issues when attempting to authenticate my license in the initial stages of the review. However, a brilliant chap named Joey was on hand who really went above and beyond to rectify this. It was a simple error on my activation at their end which prevented my system from authenticating. One simple screenshot of my DAW was enough to have the problem sorted and his etiquette and manner in our email exchanges were second to none when it comes to support.
If you are already sat on a bunch of libraries and have been cutting your teeth as a composer for some time now then you may not find much in the way of "something new" to get to grips with. However, the free trial should be more than enough to help you decide if you want to purchase any of these libraries as a full product. I know there are a few in here I'd love to own on a permanent basis such as brass and the "Ra" library which have slowly been creeping into my DAW's template.
If you are a fresh composer, out of university or still studying and want an all-round option as well as having the flexible cash each month (might be time to forget that weekly cheeky Nandos) then this could be a perfect solution to having a lack of samples without having to pay an arm and a leg to gain some great sounding libraries. There is a student plan available for only EUR 13.99/month for 7 instruments. There is a special student link: http://www.soundsonline-europe.com/composercloud-students.
I can say if I'd have had the system capabilities and the option to run a cloud-based subscription as this when I first started to shop around I would have been snapping it up. Though, I would advise if you are using the service for a while and you find yourself only using a small handful of the virtual instruments in each composition, it may be worthwhile buying them outright as a 360 Euro a year price-tag for only a handful of libraries can be pretty steep. Especially if you already own a number of EW products.
Overall, I would say EW have come up with a very good business model here which caters to their growing user base and the needs of the entry-level composer in terms of getting an all-in-one out of the box product. For more experienced users with many more libraries under the hood of their hard drive? Maybe not so much. However, there is now also ComposerCloud Plus with all the Diamond and Platinum versions that EastWest has to offer for an annual fee of €565, More information is at http://www.soundsonline-europe.com/composercloud (scroll down until you get to the ComposerCloud Plus info).
I hope this review has helped you make an informed decision!
LINKS

Official
Demo of ComposerCloud by Andrew Overfield

Twitter
 

Facebook