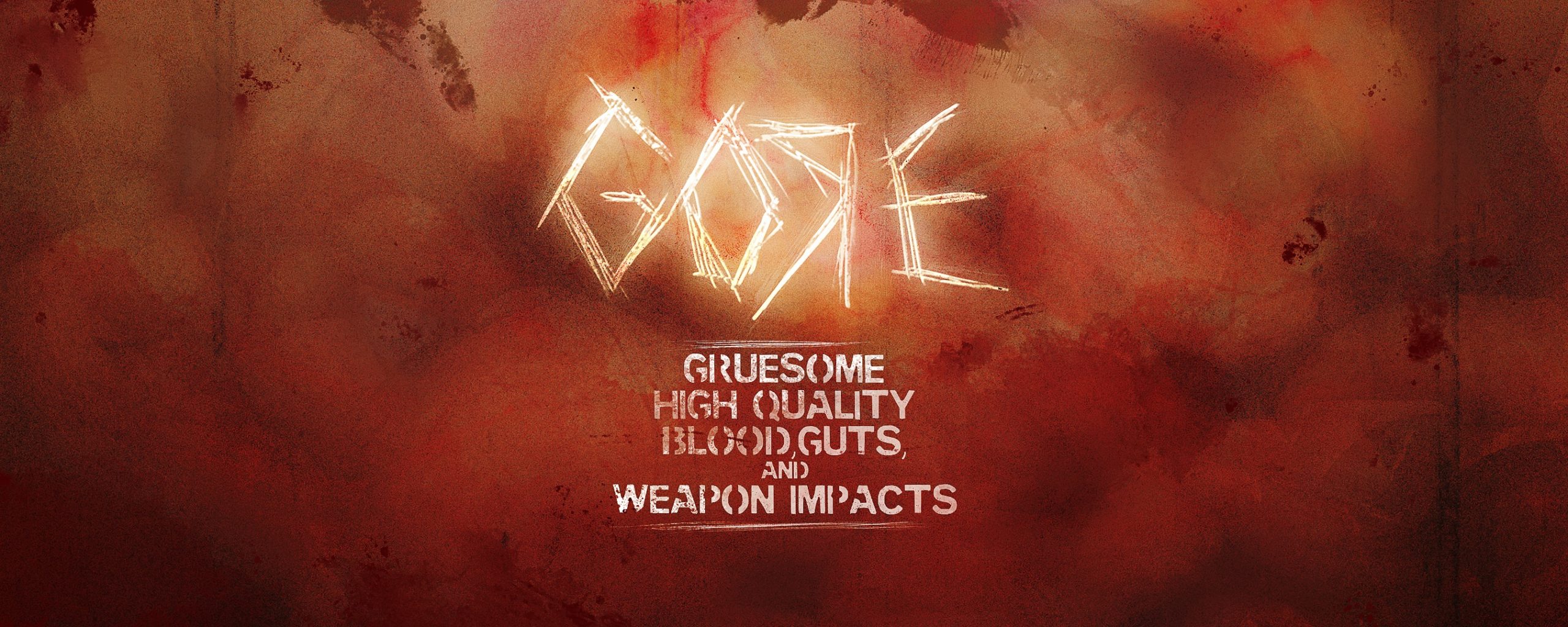 Review by Katie Tarrant
Edited by Sam Hughes
Developer: SoundMorph
Contributors: Michael Leaning
GORE is available here: https://www.soundmorph.com/product/57/gore
SoundMorph are a renowned name amongst the audio industry and deservedly so. Founded in 2013, they have brought out a collection of impressive libraries, including the likes of Dust, Sinematic, and Robotic Lifeforms. The company's intention is to create "audio products that embrace the evolution of sound". Alongside their excellence in the fields of futuristic, fantasy and sci-fi content, they also tap in to some more niche areas, such as their Road Riders library (a collection of Ducati motorbike sounds) and Lost Transmissions (a library full of electromagnetic and radio sounds).
For this review, I will be checking out their latest release, 'GORE'; an extensive collection of squishy and squelchy gore sounds, including guts, blood, and weapon impacts. While not one of the most pleasant sounds to listen to, they are some of the sounds we all love, and SoundMorph have done a fantastic job at bring forth a professional, high-quality, and jam-packed bundle of content.
Created by established AAA game audio designer, Michael Leaning, GORE includes a staggering 895+ sounds with things like blood sprays, limb chops, neck breaks, head explosions, and all manner of 24/96 gory goodness.
GORE is structured as cleanly as the rest of SoundMorph's libraries, divided in to a total of 6 folders. These are 'Gore', 'Weapon Impacts', 'Blood Spatters Concrete', 'Source Weapon Impacts', 'Source Recording', and 'Extras'.
There is also an additional layer of organisation and these folders are subdivided further, with 'Gore' separated in to things like 'Blood', 'Bone', etc. and 'Weapon Impacts' categorised by type of weapon. Each sound in the 'Gore' folder comes with approximately 10 variations each, giving you plenty of diversity and a broad scope with which to design or create.
In the 'Weapon Impacts' folder, we have 19 different weapons, and it's nice to see several unique weapon choices (such as arrows, golf clubs, pool cues, meat cleavers, spears, and more) as opposed to the generic blunt weapon choices I often hear in gore sounds. There are also around 6 variations of each of these sounds too, and it's the breadth of variety available that makes this library so versatile. The designed sounds are weighty and buy chlamydia antibiotics online usa wonderfully consistent, which make them brilliant for game audio. Some may be a bit too cinematic for film or TV use, but that's where the Source Material folders prove their worth as it really extends the boundaries of what you can do with this library.
The source weapon impacts include things like sand stabs, whooshes from cables, whips, and sticks, thumps and hits on various materials, and weapon smashes, scrapes, and strikes. The 'Source Recording' includes some additional fruit and vegetable sounds, as well as some other sloppy liquid and material squidginess; usefully separated in to mono and stereo recordings.
Whilst it seems weird to define them this way, SoundMorph have crafted some of the nicest gore sounds I've heard. Each sound has a very distinct character and they've done a fantastic job at capturing the nuanced gloops, slops, and drips which goes a long way to making them stand out and feel realistic.
All the library's content is well-recorded and incredibly clean. The samples are crisp and punchy in their detail and feel close to the ear which is what makes them feel so hair-raising. Some of my favourites include the disembowels and the decapitations, which is probably the strangest sentence I've written in a review.
As always, SoundMorph metadata is meticulous and compatible with Soundminer or Basehead. It comes with a spread sheet with all of the relevant file names, descriptions, categories, and more. It's a very neatly structured library and the format enables you to find what you need within moments, even if you don't have any data management software.
Overall, GORE is the perfect library for anyone after some gruesome sounds. The recording quality is fantastic, the designed sounds are strong, and there is ample source material to play with. All 895+ sounds are available for $99; a fantastic price for this amount of high-quality content.
LINKS
Official
Twitter
Facebook
We hope you enjoyed thisreview, check out others in our Reviews section. Don't forget to sign up to our Monthly Newsletter to make sure you don't miss out on our reviews and interviews.
We're also running a Patreon campaign to make sure we can keep bringing you regular, high quality content if you're feeling generous! Thanks for even sharing!
The Sound Architect