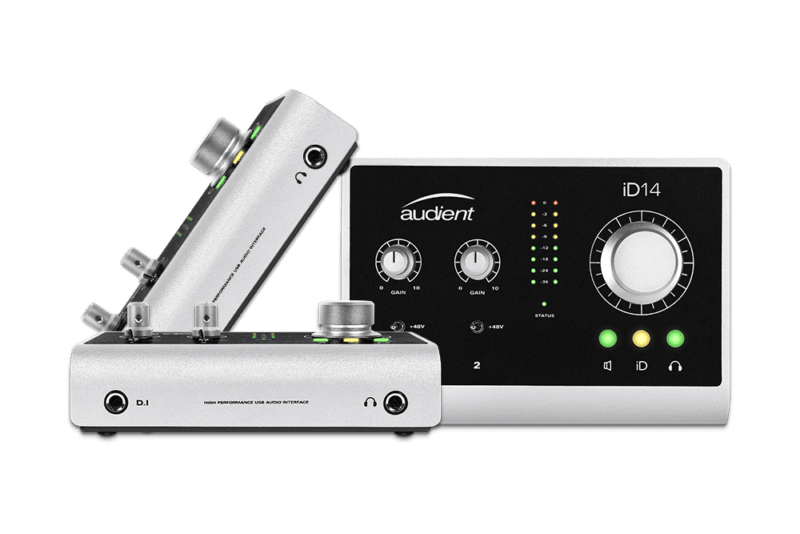 Article by Sam Hughes
Edited by Katie Tarrant
First Impressions
The iD14 is the next step up in Audient's interfaces, from the iD4 (see our review HERE). My first impression of the iD14 was that it's more serious than the iD4. It looks sturdier, feels a bit heavier, and is slightly less portable as a result. Therefore, I would say that if you're in need of a portable setup, the iD4 is a more practical candidate due to it's size, weight and all round design.
One of the additions I noticed with the iD14 was the flip switches controls for turning phantom power on and off. These switches are very durable, and have a nice solid click into place, however they still worry me if they were transported a lot as they may be prone to damage. Bear in mind that this isn't aimed to be an incredibly portable interface. The iD14 is intended to deliver "the audio performance of a large format console in a compact and elegant desktop package", which is exactly what it does.
Now it's also worth bearing in mind that I have come "up" from an iD4, whereas the objective of the iD14 was to "make a smaller, more portable USB interface with the same incredible, class leading sound quality as iD22" Not having used an iD22 myself, I have tried to review it objectively as best I can.
The iD14 boasts a pair of world-class Audient console mic pres, class-leading Burr-Brown converter technology, console-style monitor control, JFET D.I and revolutionary 'ScrollControl'. Ultimately, it's intended to be the hub of your studio and not an "on the go" kind of device. So let's check it out.
Setup
Super simple, download the drivers, setup your software and away you go! Then prepare for the fun of the iD Mixer (see Software below)
Hardware
As mentioned before, the first thing you'll see in the picture above switches for phantom power. One thing you should be aware of is that the iD14 can be USB powered. However, if you want phantom power, it will have to be plugged into the mains, for a very good reason. In short, it's to prevent a lower quality due to the amount of power distribution. Via USB you only have a certain limited amount, so with cheap USB interfaces this can lead to noisy, under-powered mics or the other way, with under-powered pre's and devices.
A small component that I miss from the iD4 is the smaller output socket for the 3.5mm headphone jack, but that is only a slight niggle as it's not often we mix or monitor with headphones that are not full size 1/4 inch. Easy access to the DI input on the front is makes it almost instant to jump in with a guitar, or other line instrument of your choice.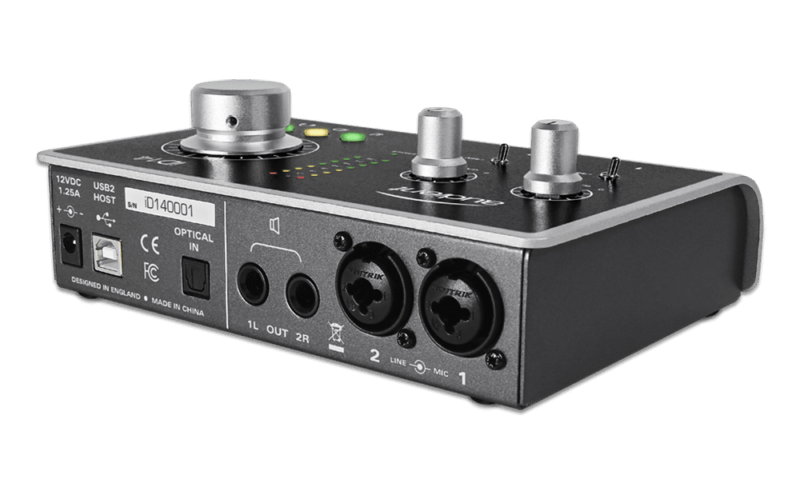 As you can see on the reverse to get your multiple inputs, you do this via the optical in port. You then also have your 2 XLR inputs and 2 balanced outputs. Now, with the digital inputs, you have a lot more flexibility and control with a nice simple interface to manipulate them with. The ASP800 from Audient is a great addition to partner with this interface, but you can use many other devices. One small, but nice, addition would be input meters, but again you can rely on the new 'iD Mixer for that. (See 'Software' below).
One final piece of engineering to discuss is the "virtual scrollwheel" encoder mode or "Scroll Control". By engaging this mode, the volume control knob becomes a control knob that will affect whatever your mouse hovers over – allowing a whole new world of DAW automation, plug-in control and direct control over anything scroll wheel enabled in your host workstation.
If you're a huge tech head and need to know all, then check out the full specs here: https://audient.com/products/audio-interfaces/id14/tech-specs/
Software
The software for the iD14 has settings for sample rate, latency, buffer size, etc. in the bottom right of the screen via the iD app. However there is also the 'iD Mixer' (see below).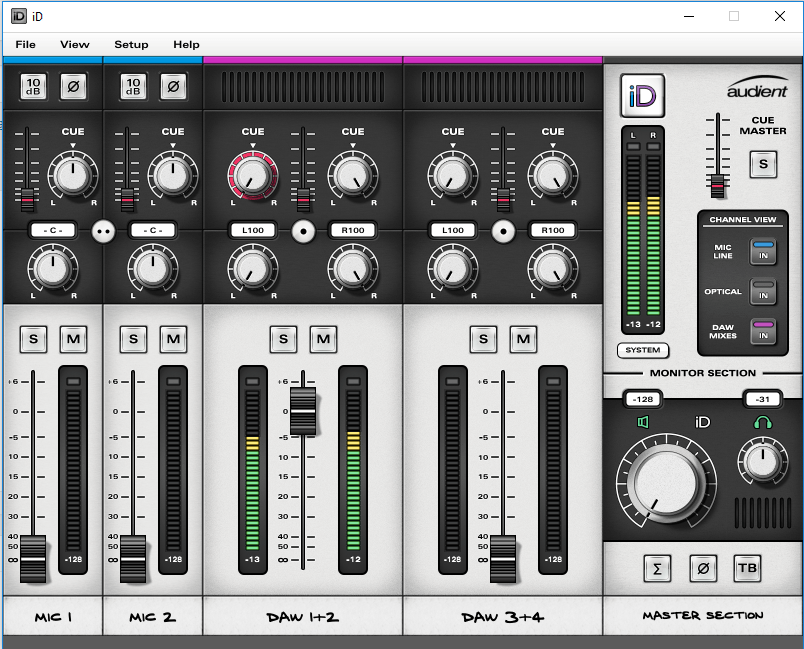 As you can see in the image above, the iD Mixer application gives you a lot more control over your iD14, than you have seen previously with the iD4. You can monitor your inputs, manipulate your panning, output levels, and a lot you would expect from digital interface software.
There are three different things you can route to your outputs; Main Mix, Cue and DAW thru, giving you some flexibility when configuring the output matrix.
Audient themselves, provide a great video detailing the features of the mixer:
Overall
For me, the Audient iD14 is a great example of big things come in small packages. It's fantastic value for money and, depending on what you need for your setup, it can order tramadol canada open up a large world of possibilities for not as large a budget. For example, I'm mainly working on headphones at the moment, in stereo, and I don't tend to need many inputs. So, for me, something more like the iD4 is fantastic, and although the iD14 adds a lot of new components, it's not a necessary upgrade for me. If however, you do need those extra inputs, extra outputs and a lot more control to use in your studio, this is definitely what I would recommend for a budget studio interface. It sounds awesome, it doesn't use up much desk space, and it's pretty much plug and play.
8/10
Keep an eye out for more reviews coming soon
LINKS
Audient
We hope you enjoyed Sam's review, check out others in our Reviews section. Don't forget to sign up to our Monthly Newsletter to make sure you don't miss out on our reviews and interviews.
We're also running a Patreon campaign to make sure we can keep bringing you regular, high quality content if you're feeling generous! Thanks for even sharing!
The Sound Architect