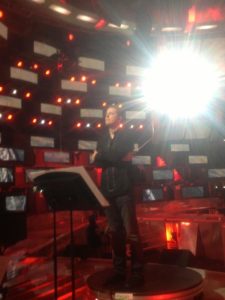 The Sound Architect speaks with incredible composer Jason Graves. Jason is an Academy Award-winning (BAFTA) composer who has brought his passion for music to franchises such as TOMB RAIDER (SQUARE ENIX) and DEAD SPACE (EA). He is particularly enthusiastic about illustrating a project's story and character arcs through the power of music. His sophisticated composition style has made his music synonymous with unique musical textures and cinematic orchestral writing.
Jason also composes for film and television, including the upcoming feature films ADRENALINE and UNKNOWN CALLER. His music has been licensed for television shows such as AMERICAN IDOL and THE AMAZING RACE.
In addition to two BAFTA's, Jason's music has been honoured with three Academy of Interactive Arts and Sciences Award (AIAS) nominations, winning "Outstanding Achievement in Audio" for DEAD SPACE. He has received twenty one G.A.N.G. nominations and four wins, including "Audio of the Year" for DEAD SPACE and DEAD SPACE 2, "Best Original Theme" nominations for DEAD SPACE 2, STAR TREK: LEGACY and BLAZING ANGELS 2 and "Music of the Year" nominations for DEAD SPACE and KING ARTHUR.
Read it here: Interview with Professional Composer, Jason Graves
Enjoy!
The Sound Architect