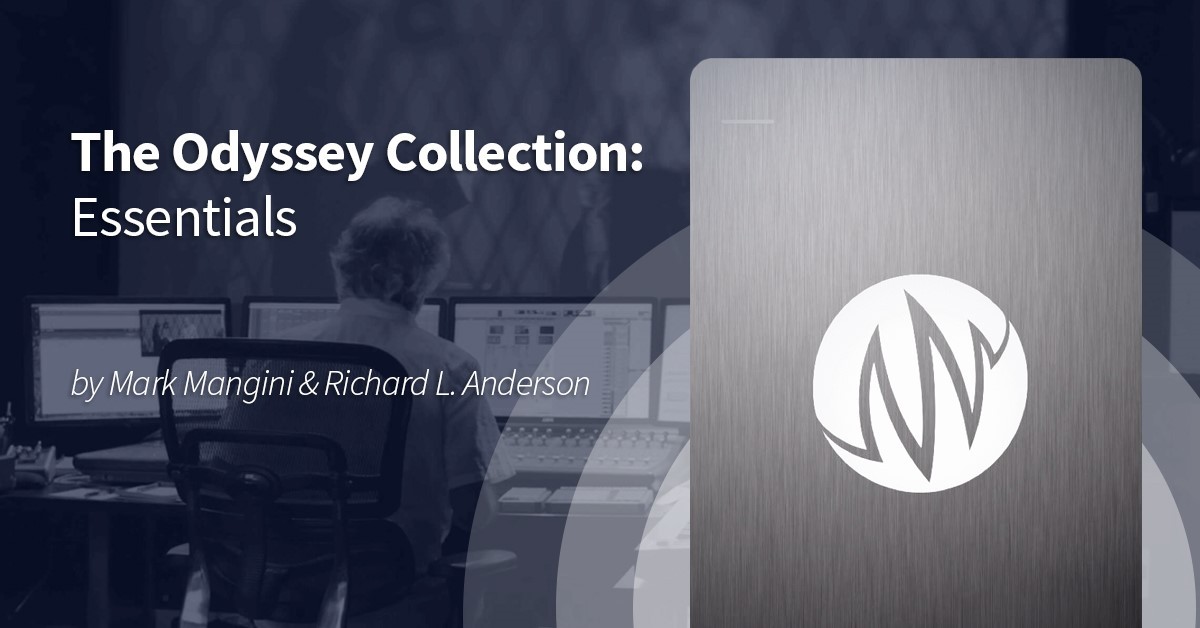 Article by Katie Tarrant
Edited by Sam Hughes
Content by: Richard L Anderson and Mark Mangini
Published by: Pro Sound Effects
Introduction
The sound effects market is a growing industry that is filled with an endless amount of great content. The primary advantage of purchasing a sound effects library is to gain access to sounds that you are unable to source yourself. To satisfy this need, many companies focus on creating bespoke content for specialised areas, such as certain vehicle or motorbike types, particular guns, ambiences from a particular location and so on. One thing that is not always catered to as much is generalist libraries, containing wide varieties of common and staple content, for individuals or companies that need a general palate of sounds. Well recently, The Odyssey Collection: Essentials was born, and boldly fills the gap with 16,000 sounds across a broad spectrum of topics.
Released through Pro Sound Effects, The Odyssey Collection: Essentials is a collaboration between two accomplished sound editors, Mark Mangini and Richard L Anderson. Throughout 36 years of incredible work, Mark Mangini has contributed to the likes of Fifth Element, Spiderwick Chronicles, Cats and Dogs, and most recently Mad Max and Blade Runner 2049. Richard's work includes Lion King, Raiders of the Lost Ark, Anchorman, Flushed Away and his latest work on 22 Jump Street. Throughout their careers, Mark and Richard have collaborated on numerous titles. After accumulating over 250 credits between them, they admirably decided to share some of that content to the world in the hope of inspiring and supporting future generations of audio designers.
Out of the Box
As aforementioned, OD:E features an astronomical range of content with 16,000 sounds packed in to a beefy 250gb worth of content; all nicely compiled on a sleek 1tb drive with the Pro Sound Effects logo. The library comes with a 6 month trial of the library management software Basehead, and all of the relevant metadata for the OD:E content to integrate seamlessly into it. It also comes with an in-depth Excel spreadsheet of the entirety of the library's content, including filenames, categories, descriptions and durations.
Looking through its meticulous organisation, I was amazed to find 288 folders packed full of samples, including sounds for aircraft, materials, weapons, mechanical, water, ambiences, whooshes, animals, tools, voices, and that's just the start of it. There are 295 categories in total, and we are not talking about one or two sound effects per category; each folder is filled with multiple recordings that cover every facet of what you need. What I particularly appreciated was that the folders are separated down to their finer details, so there is not just an 'ambience' folder, but there is 'ambience – industrial', 'ambience – exotic', 'ambience – battle' and so on. This makes it effortless to find exactly what I need, even when I'm not using an asset manager like Basehead. This is thanks to the Pro Sound Effects team, who invested an impressive 4,000+ hours of editing to ensure this library was as straight-forward and intuitive as possible. If that wasn't enough, the library also comes with online and offline support, so that you have access to the sounds whenever and wherever you may need them.
The duration of the files vary throughout, from 1-second one shots to as long as nearly 20 minutes for one of its beautiful forest ambiences. The content is perfect for drag and drop scenarios or for layering with other sounds, and there is ample variation to enable you to cut and cater everything to suit.
The Sound
The quality of OD:E's content is apparent from the get go. The samples are all clean, perfectly cut, and well-recorded which makes them easy to use for all abilities. Whether you are just getting in to sound design, or its your full time profession, the use for this library is insatiable. The more I explored, the more I came across sounds that I would not expect to use, but am so grateful for when I suddenly need to reach for them. As a result, OD:E instantly became one of my go-to's because I knew I was likely to find the content I needed, and it would be of a dependable quality.
The beauty of this library is that it's not simply a library that has been thrown together to satisfy a niche in the market. It is a careful collection of some of Mark and Richard's finest work. Each sound has been captured on a Hollywood budget as part of the very projects that make up their staggering credit lists. Out of the thousands of hours of audio that Mark and Richard have undoubtedly gathered between them throughout their working lives, they have done a fantastic job at collating a library that gives you exactly what you need.
I think Mark captioned their reasoning for creating this library perfectly, and it absolutely lives up to these expectations.
"Odyssey represents 30 years of passionate pursuit of something I love to do, for the sake of doing it. We recorded because we had to, not because we got paid to – the movie needed it and we did what was necessary. This library has been instrumental to our own success, and now the sounds can live on in the hands of the next generation of filmmakers and sound designers."
Whilst I will continue to burrow through the reams of sounds that are here, some of my favourite content so far includes their wildlife ambiences, underwater sounds, motorcycles (which has nearly 150 Harley Davidsons sounds alone, plus many more), thunder recordings, and prop Foley. Listening through, every sound has such a vivid character and, for me, really feel like small snippets of the history of Mark and Richard's careers. It's a wonderful insight in to their world, and the standard of their profession, and a beautiful thing to have royalty-free access to for your own use.
Conclusion
Overall, The Odyssey Collection: Essentials is a vast and detailed collection of go-to sounds that would be perfect for anyone starting out or regularly working in audio. It is one library I have used where I can confidently depend on its content from the get-go. Whilst its price tag may feel unreachable to aspiring audio designers in the early stages of their career, it is certainly a product worth saving for as it will never lose relevance throughout your working life. Pro Sound Effects offer a great pricing structure with a $300 discount for freelancers, and competitive subscription or buyout plans for companies. Its ease of use also makes it accessible to those not in audio, such as developers, directors, producers, and more who need a reliable source of sounds all nicely compiled in to one place. Whoever you are, OD:E is a solid foundation or additional support for your arsenal and will give you countless hours of high-quality sonic ingredients for any future project.
LINKS
Official
Twitter
Facebook
We hope you enjoyed Katie's review, check out others in our Reviews section. Don't forget to sign up to our Monthly Newsletter to make sure you don't miss out on our reviews and interviews.
We're also running a Patreon campaign to make sure we can keep bringing you regular, high quality content if you're feeling generous! Thanks for even sharing!
The Sound Architect