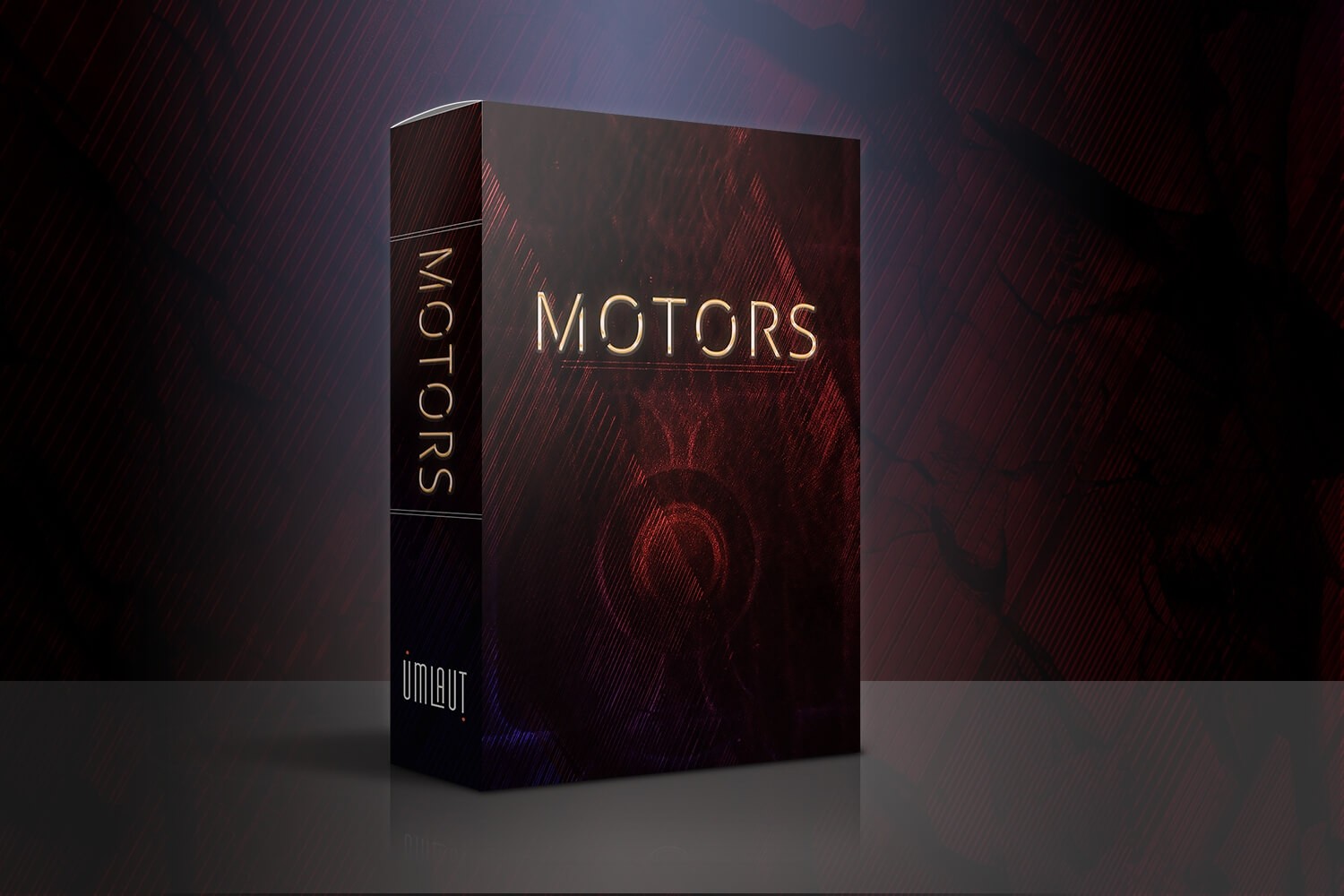 Review by Jordan Killiard
Edited by Katie Tarrant
Price: $99 US
Developer:  Umlaut Audio
Reviewed on: Mac Pro 5.1
Back in June 2017, I reviewed Umlaut Audio's uBeat bundle. I liked its customisable features and how it encouraged you to make the supplied pads and loops your own through use of FX. Now Umlaut Audio has released a product taking that idea even further. Motors is a $99 dollar selection of loops but, as with uBeat, it's what you choose to do with them that makes it special.
Here, I take a look through some of the basic features of the library with an example track of my own.
The Library
Motors is a 1.3 GB drum-loop library running on the full version of Native Instruments Kontakt 5.6.8 or higher. There are over 140 presets divided between three categories: simple, complex and experimental, utilising 80 'soundscapes'; each with 3 keyswitched variations. The library's FX is consistent with their other products, such as uBeat, and has 7 insert FX per layer as well as send effects with delay and reverb.
Each patch has 2 layers (sound samples) spanning two octaves each, with keyswitched variations for each layer accessible on E0 and E3. The variations are consistent across the patches, with E as the standard loop, F a variation, and G double time. The key switches work fine in practice but you need to retrigger the note you're already holding. It would be nice if hitting a keyswitch retriggered the key you are already playing.
The Interface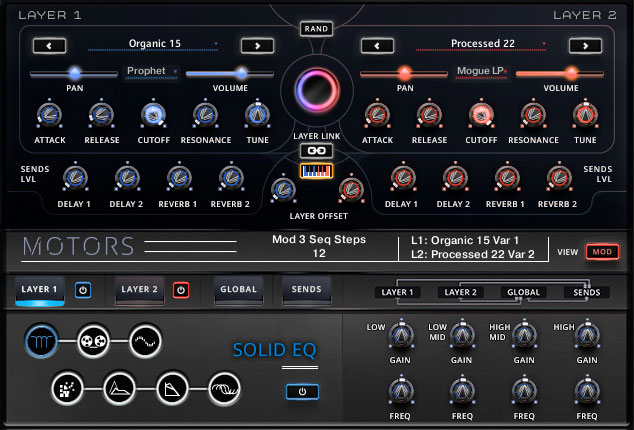 Anyone familiar with other Umlaut libraries should have no problem navigating the interface. It features two layers with identical controls: blue on the left and red on the right. The blend between the two layers is controlled via the red/blue coloured circle in the centre. FX for both layers are in the lower half of the patch, and as aforementioned, there are seven different FX: EQ, Tape Saturator, Distortion, Lo-Fi, Transient Master, Compressor and Modulation. Like uBeat, I still find the buttons a little on the small side. I do wish that the current trend for tiny little knobs and buttons would change. I run my monitors at 1440P but I'd be terrified to see it on 4k!
You can switch between several views for more controller options. On the middle right of the UI is the 'Mod' view toggle.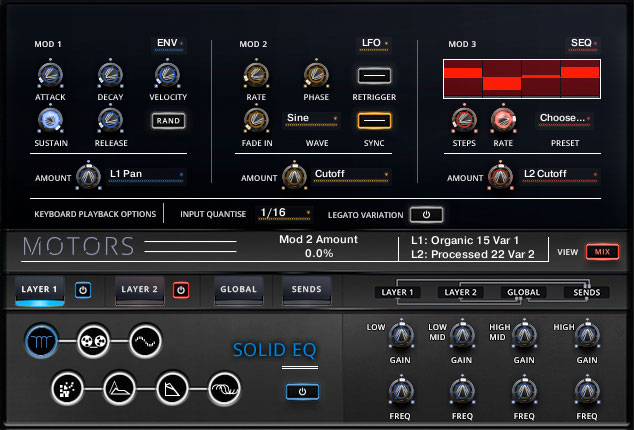 This opens a series of options, again for each sound layer. Here you can set up to three mods with LFO, envelope and sequence for each mod. You have the option to control a mod globally or for each layer, with a handy randomiser button for the envelope parameters.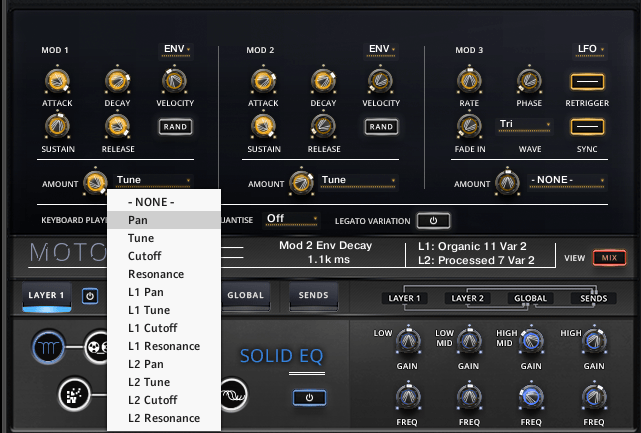 Conveniently, Umlaut have also included a zoom option for the sequencer.

Here you can adjust the sequence steps up to 32 and adjust sequence rate, etc. The zoom is a handy feature I'd like to see other developers use too!
The Sound
There's a great selection of sound sources here (or 'soundscapes', as mentioned above) with 80 in total divided between 20 'organic' and 60 'processed' sounds. There's a good mix between bell-like pulses and ticks, along with guitar-style chugging rhythms. Once you've found a rhythm you like from any of the 140 patches, it's simple enough to swap the sound source by clicking on the name and picking from the 80 available. Alternatively you can hit the randomiser button and see what it picks for you! Once you take this into account, there's an enormous amount of content available in Motors.
I did notice occasionally on some of the samples a high pitched ringing noise, as well as some general hiss. This was made worse by triggering a lower key/sample. While the majority of the samples are fine, I did think a few could have benefited from a bit of noise reduction. While I'm all for a bit of character in sample libraries, this just struck me as something that could have been avoided at the recording stage.
In Use
Like Umlaut's previous library uBEAT, I found Motors very customisable and straightforward to navigate (with the exception of the UI being a bit too tiny for my tastes still). There's a lot a material here, and being able to randomise and change the soundscapes in each patch means Motors will get plenty of use from me for quite some time! However, I did find that some patches were quite CPU intensive on my machine. Given I'm running an older 5.1 Mac Pro, it's perhaps to do with the age of my machine. Often if I tried triggering several samples at once, my CPU meter in Kontakt would go through the roof and I was left with no option but to use one key at a time (especially on the "complex" patches). Umlaut recommend Mac 0S 10.9 and abov or Windows 7 and above, with at least 4gb of RAM, so if you're on a newer or more powerful machine, you wouldn't have this problem. It is something to bear in mind though if you're using an older machine like myself.
Summary
Overall, Motors is a fantastic loop-based tool with an enormous amount of options, easily justifying its small $99 price tag. Any issues I had were easily outweighed by the sheer amount of customisable options at my disposal. I can see myself using Motors often for adding that extra bit of life and movement to my compositions. If you're not a "tweaker", then there's still plenty of material here to use, but if you like to get into the nitty gritty of the FX, mod and soundscape options, then you'll see this product go a lot further than you think!
LINKS
Official
Twitter
Facebook
We hope you enjoyed Jordan's review, check out others in our Reviews section. Don't forget to sign up to our Monthly Newsletter to make sure you don't miss out on our reviews and interviews.
We're also running a Patreon campaign to make sure we can keep bringing you regular, high quality content if you're feeling generous! Thanks for even sharing!
The Sound Architect