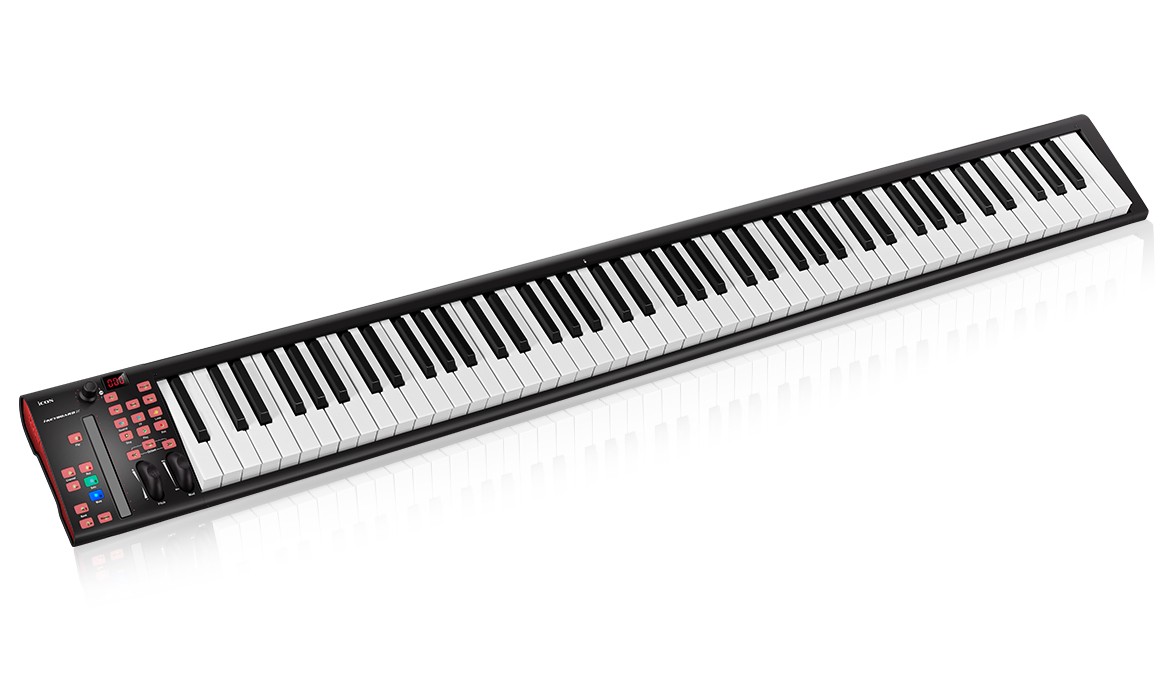 Review by: Jordan Killiard
Edited by Katie Tarrant
Price: £200
Developer: iCON Pro Audio
Distributor: Synthax Audio
Reviewed on: Cubase 9.5, Windows 10
The
iCON
iKeyboard 8x
is a new addition to the most under-looked of composer's tools – the 88 key semi-weighted keyboard. There's not a lot of them out there and none seem to ever be perfect.
Synthax Audio
here in the UK (
http://www.synthax.co.uk
/), kindly let me borrow the iKeyboard 8X for a few weeks, so I could put it through its paces.
The Keyboard
It arrived in a box within a box and had a nice satisfying strip of protective tape running over the 88 keys. The case is solid feeling and metal, with rounded edges over the top. The modwheel, pitch-bend wheel and controls are situated on the left hand side of the keyboard, adding a reasonable amount to the width of the keyboard but saving on the depth. I had to do a bit of shuffling on my desk to accommodate it but I like not having lots of faders/pads/buttons etc. taking up lots of space along the top of the keyboard.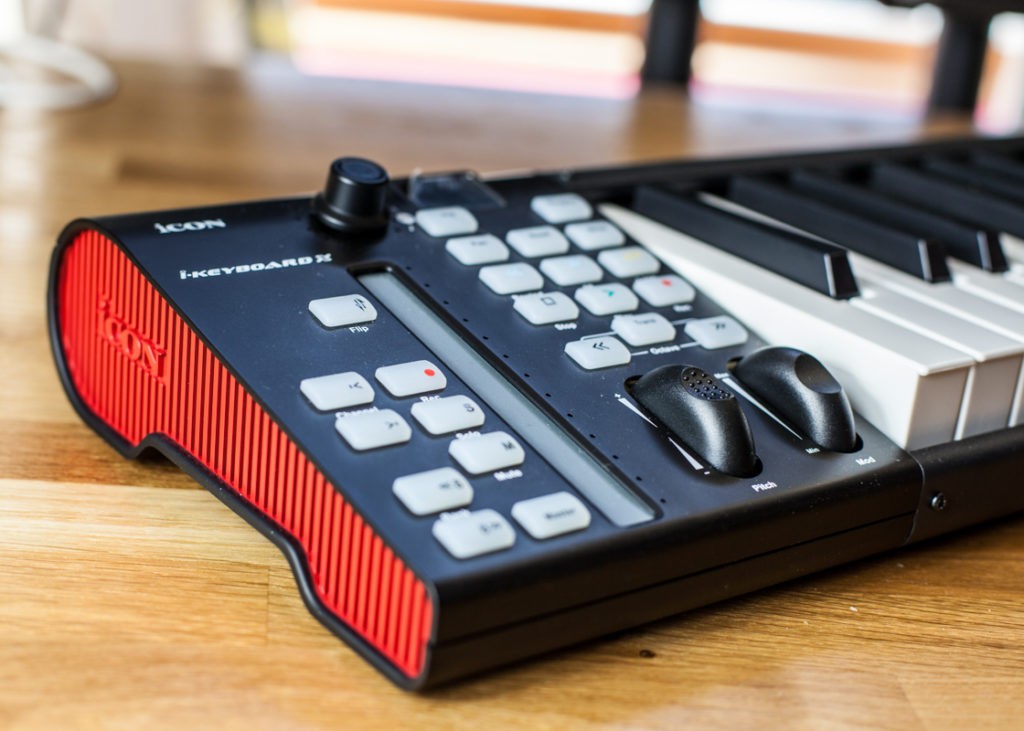 Installation was very straightforward – I plugged it in and all was well. My loan period with this keyboard happened to coincide with taking the mammoth decision of switching my main machine from aging Mac Pro to a self-built PC. But thankfully it didn't require any additional drivers installed, as the 8X is class-compliant with Windows 7 and up, as well as Mac OS.
My first impressions were that it was…different. Keyboard feel is a peculiar thing and what one person thinks plays great, another will hate. I've been using my Nektar Impact LX88 controller for almost three years now. I've never been that happy with it (the travel in the black keys differs from the white) but I've stuck with it for quite a while now. So I spent my first few days with the 8X adjusting to the change. To begin with the keys felt a little "squishy" under my fingers. The Nektar has a very different feel and it took me a while to try and figure out whether I either didn't like the feel of the 8X, or that I just needed time to adjust.
I tend to favour a semi-weighted keyboard over a fully weighted one. On the occasions I've used a fully weighted controller, it's just felt too heavy for what I do. While piano playing features plenty in what I write, I'm also using the keyboard to play flutes, banjos, steel pans, trumpets, taikos, kazoos and anything else I can find. I don't need my controller to feel like an accurate representation of a physical piano. The 8X is semi-weighted but feels slightly less so than my existing Nektar keyboard. This isn't necessarily a bad thing, though to begin with I wasn't so sure. As time passed by I stopped noticing it and and thoughts of "squishy" keys passed by. I would have been perfectly happy never to switch back to my old keyboard again!
Transport Controls
The 8X features a set of transport controls to the left-hand side of the mod-wheel and pitch controller. A lot of keyboards out there tend to place all the buttons across the top of the keyboard above the keys. For the 8X, iCON has chosen to place all its buttons to the left side, therefore keeping the depth of the keyboard shallow. Although as aforementioned, while I liked how shallow the keyboard was, the extra width meant a bit of rearranging on my desk. If you have a pull-out drawer, it'd be a good idea to double check the width measurements to be sure that it would fit!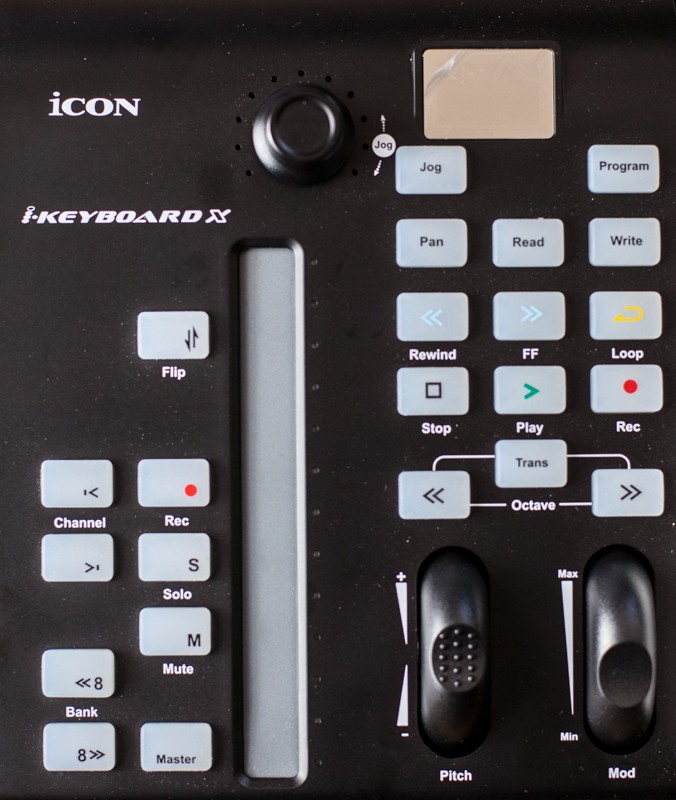 Getting the controller set up in Cubase was straightforward enough. iCON's instructions for Cubase are a little dated, showing Cubase V5. They also don't mention something pretty important for Cubase users – that you have to uncheck the "in all midi inputs" for the 8x in the midi setup, otherwise every time you press a transport button on the 8X it sends a midi note, playing a note from whatever track you have in record mode! I found the solution posted by a user on the iCON website and I explain what to do in my video review above. Hopefully iCON will update their instructions at some point to reflect the issue.
Everything else does what it should and you can use the included iMix software to connect to the keyboard. From there you can perform firmware updates, change the velocity curve and adjust midi parameters. For me personally, I tend to control things from either my Korg Nano 2 or my computer keyboard. I feel that many of the controls on the 8X are more suited to someone who doesn't keep their keyboard directly in front of their working area. If I'm recording a take and I want to stop or start playback/record, then my computer keyboard tends to be closest, and therefore quickest method of doing things. On an 88 key keyboard, it kind of feels like a stretch to be constantly moving my arm back and forth to the side. I know that probably sounds lazy, but I'm all about the time saving!
For folks like myself who don't have much need for the transport controls of the keyboard, iCON also does a version without called the 8Nano (In fact there's also another version called the 8xVST that looks exactly the same as the 8X but features a "24-Bit 96/192KHz 2-In/2-Out USB Recording Interface").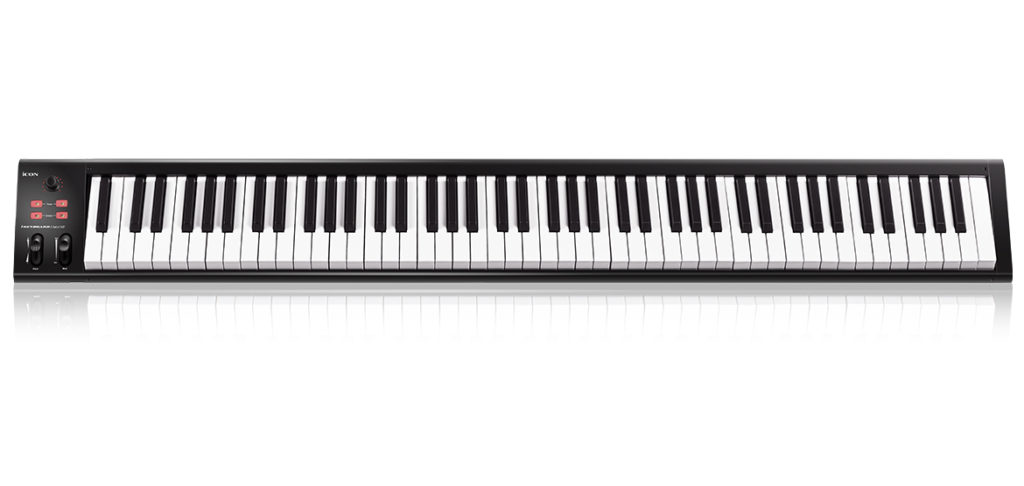 Summary
The iCON iKeyboard 8X is a great semi-weighted controller for around the £200 price mark. In this price range, for an 88 key controller, we're at the budget end of things. However, iCON manages to include a metal case, expression and sustain connectors, midi out and transport controls. The keybed I think will divide some players, and as I mention in my video review, if you're a "proper" pianist, then this probably won't be the keyboard for you. However, once I'd spent a couple of weeks with the 8X, my old keyboard felt like a distant memory!
If you're looking for a fully weighted keyboard, then the big names are the Native Instruments Komplete Kontrol S88 and the Doepfer PK88 / LMK. However, both those keyboards are approximately 4 or 5 times the price of the iKeyboard. At this price point we're comparing it to the M-Audio Keystation and the Nektar Impact LX 88. And if it was between those three, then I'd be picking the iCON.
LINKS
Official
Twitter
Facebook
We hope you enjoyed Jordan's review, check out others in our Reviews section. Don't forget to sign up to our Monthly Newsletter to make sure you don't miss out on our reviews and interviews.
We're also running a Patreon campaign to make sure we can keep bringing you regular, high quality content if you're feeling generous! Thanks for even sharing!
The Sound Architect