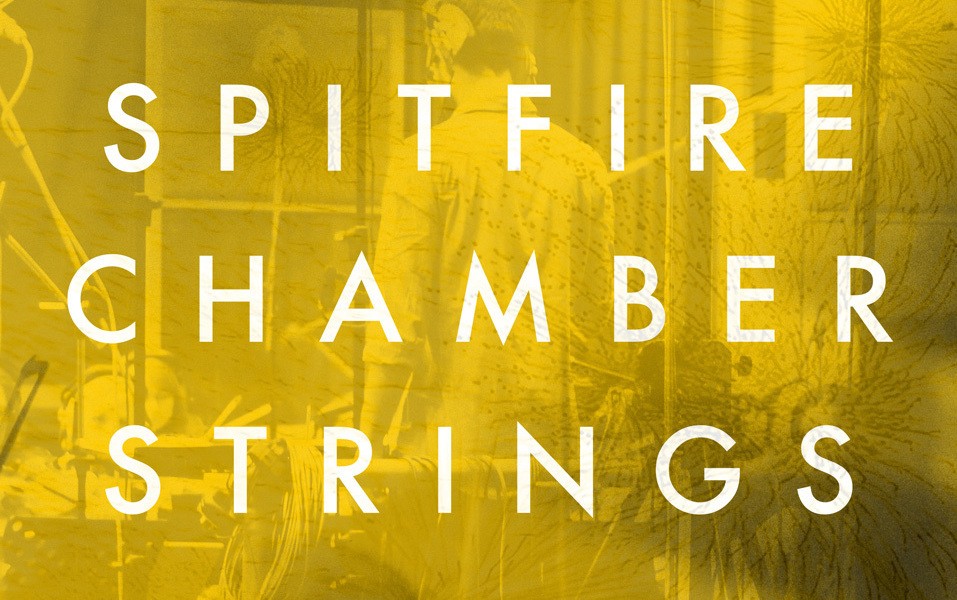 Review by Jordan Killiard
Edited by Sam Dudley

Price: £599 inc. vat
Developer: Spitfire Audio
Spitfire Chamber Strings has risen out of the ashes of Spitfire's original Sable series. Released back in 2013, Sable was a modular library beginning Spitfire's British Modular Library (BML) series, released in five volumes, including specially created ensemble patches.
However having so many volumes made updating complicated and in 2016 Spitfire began the process of ditching the modular library format in favour of single libraries, with limited mic positions (the additional mics can be bought as an "expansion" pack). Thus Spitfire Chamber Strings (SCS) was born.
For previous users of Sable, an upgrade path has been offered, with prices varying depending on how many volumes of Sable owned (owners of all Sable volumes get a free upgrade). The library is also now a Kontakt player library, meaning it can be used in the free Kontakt player (Sable required Kontakt full).
The Library
Now onto the library! SCS is a 16 piece chamber string ensemble, consisting of four 1st Violins, three 2nd Violins, three Violas, three Cellos and three Double Basses. This medium sized ensemble gives you a more intimate sound when you need it, with more definition compared to the larger sized string libraries like Spitfire Symphonic Strings (60 piece symphonic library).
Having smaller sections also allows you to use multiple instances of a section to write divisi (dividing up each section into multiple lines). Additionally you could also use SCS to add definition to parts where you've used larger sections. I like to sometimes use Spitfire Symphonic Strings (SSS) in unison with SCS (so many acronyms!) – you get the lushness of a large string section but can also hear the line with much more definition thanks to SCS.
The Interface
Regular Spitfire users will be used to the GUI by now. It's simple and straightforward and a click of the spanner icon reveals extra options of adjustment.

As well as the usual dynamics and expression adjustments, you can also fully adjust vibrato, release and legato speed. The vibrato adjustments work well and can be heard quite clearly with a section size this small.
The core patches cover what Spitfire regard as the basics – fingered legato, longs, spiccato, staccato, pizzicato, col legno, tremolo and minor/major trills. The library however contains many, MANY more patches in the Extended Articulations and Legato Techniques folders. In fact according to Spitfire's product page SCS contains "244 articulations; 38 shorts, 53 longs, 19 fx & 45 legatos".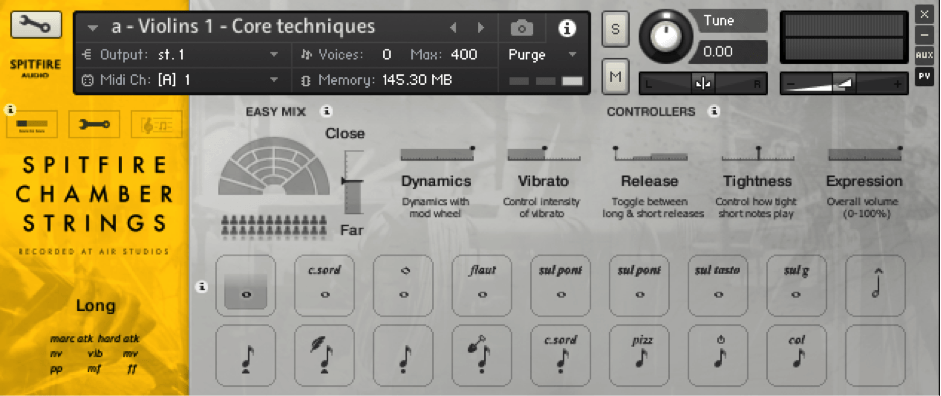 The sheer amount of content can be a bit overwhelming, but delve in further and you'll find almost everything you'll ever need. Flautando longs (the best thing ever!), measured trems (150bpm & 180bpm), sul pont, harmonics, it's all there!
The Sound
SCS, like the majority of Spitfire's libraries is recorded at Air Lyndhurst, London. The venue has a beautiful sound that gives their libraries life and breath. From light, feathery spiccato and pizzicato to scratchy Sul pont, the building comes alive no matter what is played. If you want to tone down the baked in reverberation (and it certainly isn't to everyone's tastes) then you can simply turn up the close mic and turn down the tree. It won't give you a completely dry sound, but if a dry sound is what you're looking for, then you're probably looking at the wrong library!
It would be remiss of me not to give special attention to the Flautando patches. For me they're the highlight of the library and more and more nowadays my "go to" long strings patch. There's something about them that encapsulates the whole Air Lyndhurst sound. That light, delicate sound reverberates throughout the room. Magic!
Legato
For legato you have the option of the core patch Legato (Fingered), the standard performance Legato patch or the Legato Performance patch (it sounds more confusing than it is, honest). The Legato performance patch, built by Spitfire's resident programming genius Andy Blaney is very clever indeed, and by some clever, magic, Kontakt hocus pocus reacts to how you're playing i.e. if you play short notes then you'll hear staccato, very quickly and it changes to fast legato etc. While it doesn't always work quite as well as the standard performance Legato patch, it allows you to perform the line with a certain amount of freedom that I've found inspiring!
Microphone positions
As I mentioned earlier, SCS in its standard form contains fewer mics than the original Sable library. This is partly what made it possible for Spitfire to get the library into this price point, as previously the full Sable library if bought individually would have been almost £1800! Though in its later days there was a Sable bundle option for around £1200.
So, for your £599 you get close, tree and ambient mics. As a user of Sable I thought I'd miss the outrigger mics but to be honest I'm getting by fine without them. The expansion pack containing four additional mic positions, as well as three mic mixes by Jake Jackson costs an additional £399. To be honest, I doubt I'll ever really need the extra mics.
I know some people who simply leave the default "tree" mic on and never touch it again. I quite like mixing the mics depending on their application; if it's a solo line, then I tend to use a bit of Close and Tree mics. If I need it to sit in the background I'll just use about 70% Tree and 100% Ambient.
Ensemble Patches
The ensemble patches have a bit of a love/hate thing going on in the composing community. Some don't see the point in having dedicated patches with additional samples taking up more space on their hard drives. After all you can create your own multi in Kontakt using the single articulations. I however buy research accutane really find plenty of use out of the Ensemble patches. Spitfire describe them as great for sketch making, or using on your portable rig to save resources. To be honest, I use them quite often as a time saving device. If I have a job with a tight deadline (and a tight budget), then the ensembles work brilliantly for quickly putting something together.
Summary
Spitfire Chamber Strings is quite possibly my favourite string library on the market (as you might have guessed by now!). My own ears seem to gravitate towards the smaller ensemble strings sound and while I still use symphonic strings in my work, I find that a library like SCS adds a greater sense of realism and adds so much life to whatever I'm writing; whether it's horror (lots of sul pont) or chirpy kids music (lots of pizzicato), I have it covered with SCS.
Since Spitfire's repackaging of the Sable library to SCS, the library, in my view has become the most bang for buck package out there. Considering (as mentioned already) the price of the original Sable library, SCS really is an enormous steal! I can't think of a single library out there today that provides so much for the price. Buy it now!
LINKS
Official
Twitter
Facebook
We hope you enjoyed Jordan's review, check out others in our Reviews section. Don't forget to sign up to our Monthly Newsletter to make sure you don't miss out on our reviews and interviews.
We're also running a Patreon campaign to make sure we can keep bringing you regular, high quality content if you're feeling generous! Thanks for even sharing!
The Sound Architect