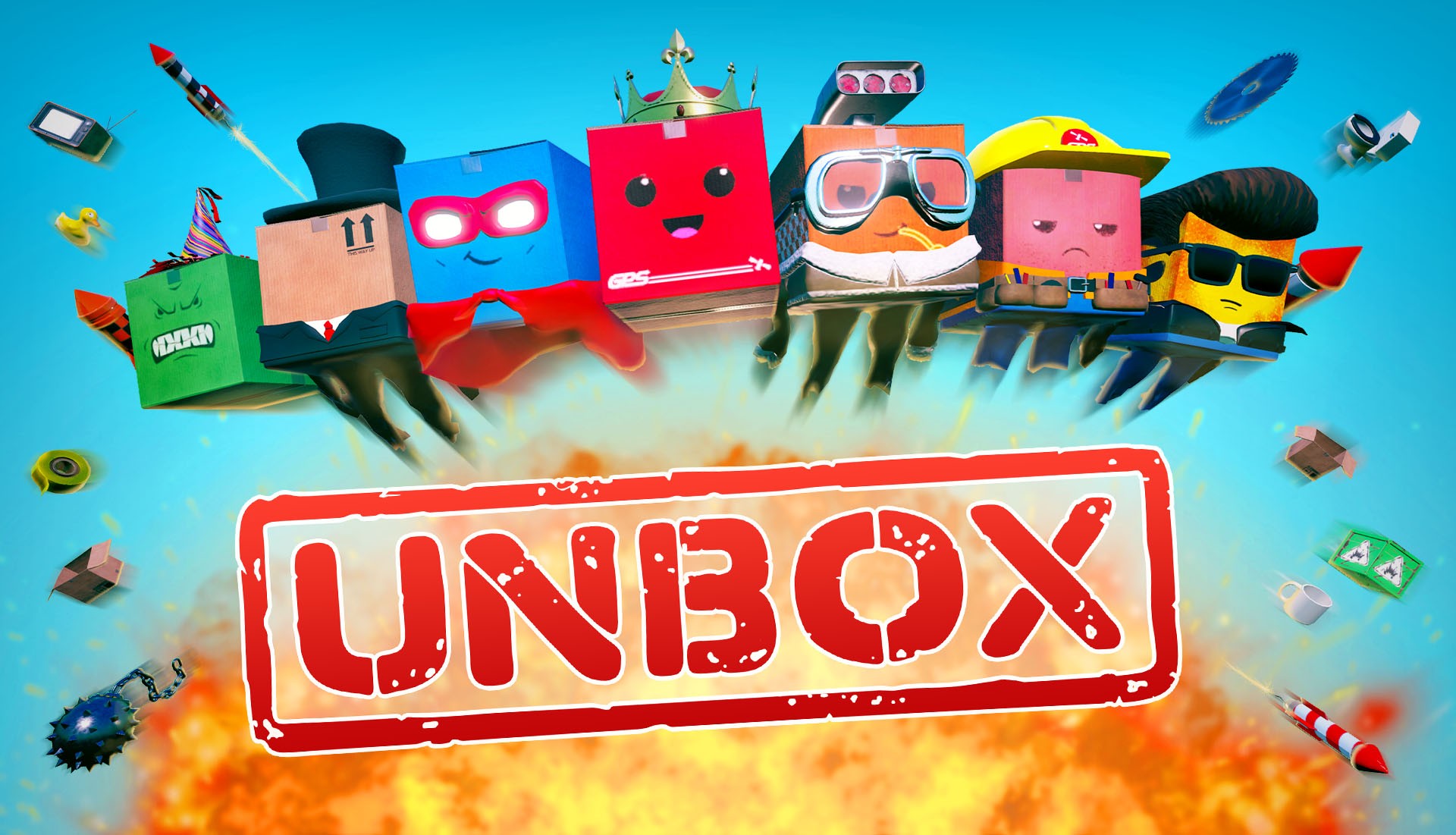 Review by Katie Tarrant
Edited by Sam Hughes
Developer: Prospect Games
Composer/Sound Designer: Matt Griffin
Reviewed on: PC
INTRODUCTION
There are many games that are individual and memorable for being so, but he indie game industry in particular is something that thrives of ingenuity and out-of-the-box thinking. Well, no pun intended but out-of-the-box thinking is exactly what leads us to Unbox, the quirky creation of Manchester based indie company Prospect Games. Unbox is a 3D platformer in which your character is a cardboard box who can bounce and roll through a miscellany of environments in order to deliver yourself for the Global Postal Service.
Alongside being a stand-out concept, the game's eye-catching retro style, gives a nod to 90's platformers, whilst still featuring the power of Unreal Engine. All this as well as an absorptive story, character customisation, testing puzzles and even a local multiplayer. With the game taking a fairly diverse take on the platformer concept, I was curious to see how Prospect Games would approach the audio.
 
MUSIC
Sound designer and composer Matt Griffin headed the ship when it came to developing Unbox's sound. Tackling both the sound design and music for the game, Matt had a mountain to climb but he has scaled it with some awesome results.
Unbox's score centres around a tropical theme, driven by steel drums, acoustic guitar and numerous other percussive sounds. From the moment the Prospect Games logo appeared on the screen, I was greeted by a foot-tapping, bassy rhythm that kept my head bobbing the entire time I was playing. Whilst the music during the level exploration occasionally got repetitive, Matt has achieved an impressive sense of progression throughout the game's soundtrack.
The music's development happens smoothly with individual tracks for each level transitioning effortlessly in to one another. Other elements such as the cheeky stingers that play when your character achieves a goal are also implemented perfectly in to the score so that no part of it is ever clashing.
The music accompanies the style of the game perfectly and goes that extra mile to making the experience feel joyful.

SOUND DESIGN
I found myself in love with the game's sound design. The beauty of a game like Unbox is that largely the sound can be down to pure creative flair. The game is not intended to emulate real-life and so the sound does not have to be confined by ensuring things sound realistic. Matt has stitched a warm and light-hearted atmosphere throughout the game's entire soundscape. Together with the vibrant art-style, this stands as the perfect game to play to lighten your mood.
The sound design is yet another place where the nature of the game requires many unique considerations. With your main character being a box, footsteps are then replaced with box rolling sounds and box tossing motions when you jump. The sounds are designed to sound light and papery whilst still providing a sense of weight and motion. I was especially delighted to hear how the box rolling sounds were still effected by the surfaces you were rolling over. Matt has exerted an incredible ear for detail and gone above and beyond to ensure the audio brings the game to life.
 
DIALOGUE
Despite the limited dialogue in the game, with the boxes speaking in their own language, Unbox still features a wide variety of characters, delivering evident personalities for each one you meet through appearance and clever dialogue design. The design itself consists of a vast array of syllables that have been recorded and spliced. These syllables are then run through an FMOD system that ensures random variation of the pitch, volume and time intervals. The result is an adorable babbling effect, although some characters having a touch of post-processing to make them sound more mechanical or natural depending on their personalities.
The game features several cut scenes, particularly in its starting chapters, and I was interested in studying how well the music carried those cut scenes. Not being able to understand what the characters are saying without reading the subtitles means that aurally there is less for your ears to pay attention to. As a result, moments like that in a game, depend on music to remain immersive. Matt has created a bubbling but not over-intensive score that really fills the gaps before they can even arise.

Conclusion 
Overall, Unbox features everything that is to love about an indie platformer. It has a gorgeous art style, unique concept, great mechanics, interesting challenges and much more. Prospect Games have made an outstanding example of how much can be achieved with an initially simple concept, and I will certainly be keeping an eye on their future projects!
LINKS
Official
Twitter
Facebook
We hope you enjoyed Katie's review, check out others in our Reviews section. Don't forget to sign up to our Monthly Newsletter to make sure you don't miss out on our reviews and interviews. 
We're also running a Patreon campaign to make sure we can keep bringing you regular, high quality content if you're feeling generous! Thanks for even sharing!
The Sound Architect