Review by Alyx Jones
Edited by Sam Hughes
Super Audio Cart is a new sample library created by Impact Soundworks to arm composers with an easy way to emulate classic consoles, on modern systems. It's not just an emulator though, the creators wanted to give you the ability to combine and manipulate the classic sounds in new ways, to offer many more possibilities for the modern chiptune writer. From the Atari 2600, released in 1977 to the well known and loved SNES in the 90s, Super Audio Cart covers this journey through chip sounds and provides everything to recreate and add a modern flourish to the sound of your childhood.
Interface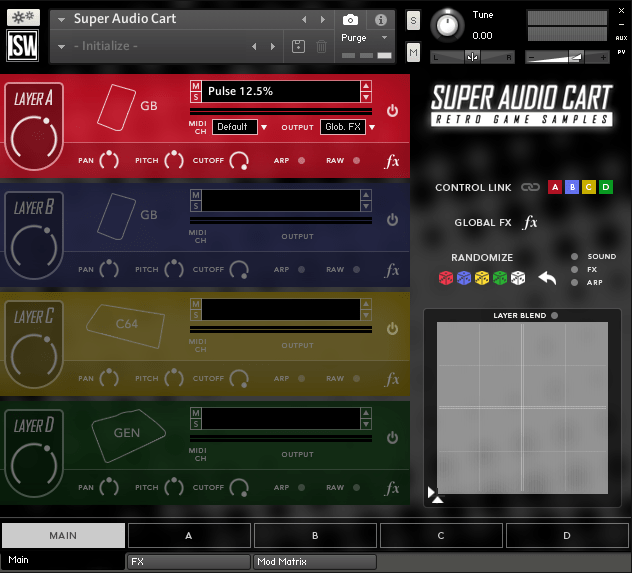 Super Audio Cart looks great, and is fairly intuitive. It took me a while to realise the white power button on the right of each instrument turned each layer on/off, but apart from that it's straightforward. You can combine up to four layers to create new and interesting sounds from the classic consoles.
Usability
While it's easy to get going by just selecting a console and then a virtual instrument, there are a host of more complex features it takes time to learn before you can make the most out of this software. Impact Soundworks have nearly 2 hours worth of video tutorials, that it's definitely worth watching before you use their product. If you are comfortable working with synthesizers, it shouldn't take you long to get started, but to really optimise your experience, dig deep into the capabilities of Super Audio Cart.
Sound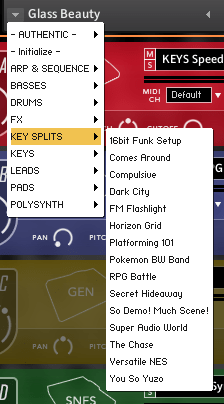 There's such a lot of choice with 7 consoles with at least 20 presets for each. There's so many ways of combining 4 layers of these sounds. It's particularly useful if you're looking to re-create the sound of a particular console, because all the sounds and most common types of waves (eg sine, pulse, triangle) are listed as options for the appropriate console. Once you've been through all the authentic choices, you may want to then explore further the possibilities with all the combination presets and go on to create your own variations and instruments. There's an option to blend between layers with an XY pad, which comes in handy when balancing sounds and textures. The randomise function is also pretty neat, especially if you are lacking inspiration!
Overall
At $149, it may not be super cheap but you really do get good value for your money with the many preset creations loaded onto the simple synth. It's also rare to come across such a good recreation of retro chip sounds that don't breach copyright from pre-existing titles. If you're especially into creating chip music, it gives you an easily accessible and incredibly versatile instrument to easily produce the classic sounds from well known titles.
LINKS
Super Audio Cart
We hope you enjoyed Alyx's review, check out others in our Reviews section. Don't forget to sign up to our Monthly Newsletter to make sure you don't miss out on our reviews and interviews. 
We're also running a Patreon campaign to make sure we can keep bringing you regular, high quality content if you're feeling generous!
Thanks for even sharing! 
The Sound Architect