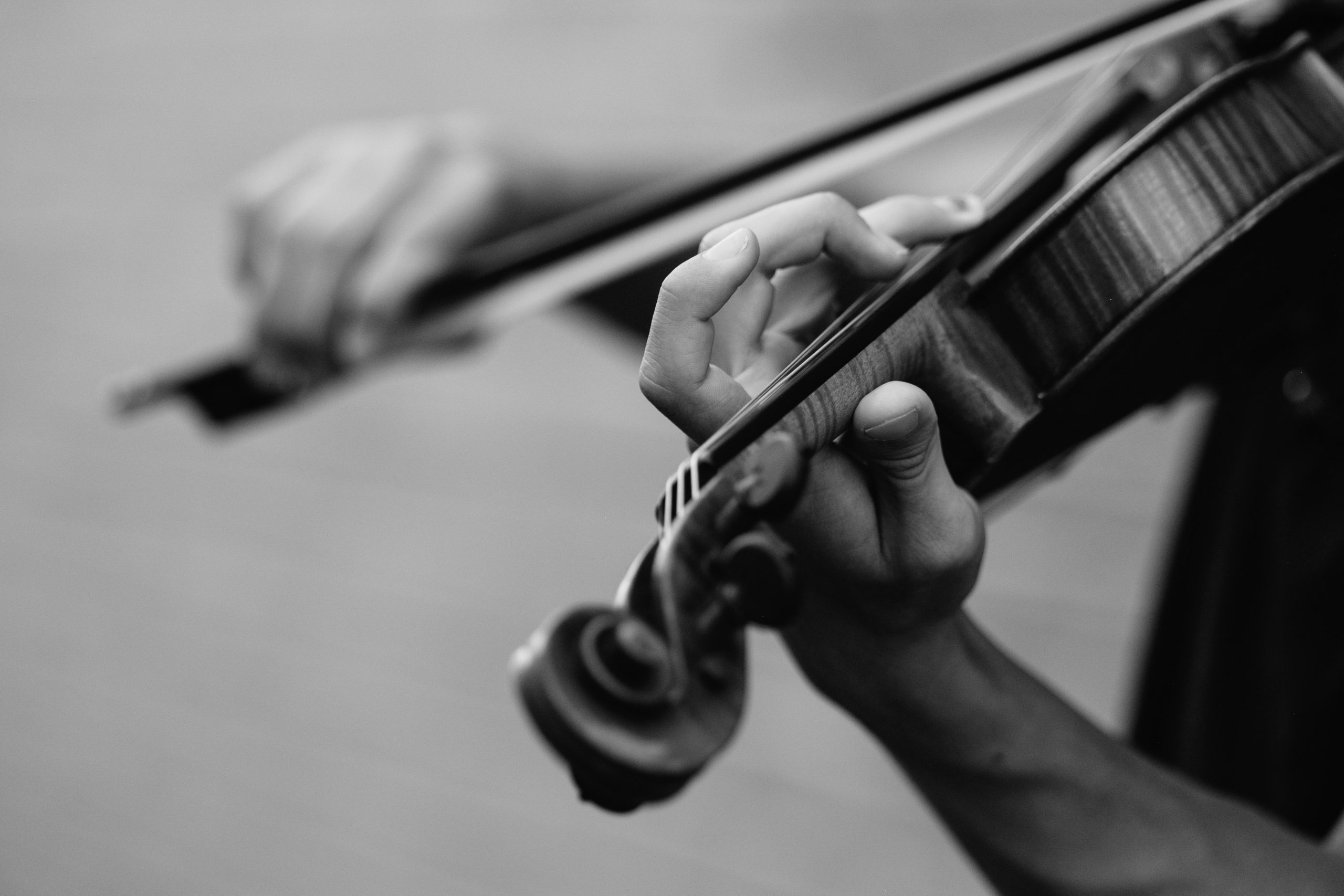 The violin is one of the most popular instruments in the world and has a very unique sound. Adapted in the 16th century from the Lira da Braccio, an instrument played throughout Italy, it has become an instrument used in classical music and with modern-day pop and even rock music. The violin has been slowly adapted since the Renaissance to become the instrument that we know and love today. Thickening the Bass Bar and the Sound Post whilst also hiring the Bridge and angling the neck, led to higher tension on the strings. giving the violin a higher concert pitch and more power, thus improving the music produced in the larger concert venues that we have today.
Learning the violin like any instrument that we try can be frustrating, but perseverance is key. Some people are naturally gifted and for others, it takes time to master the intricacies of the violin but definitely worth it. Online courses and classes have allowed us to get violin lessons from the comfort of our own home. From the best violin lessons in Singapore to Europe with its rich culture and the birthplace of the violin. The internet also has many online tutorials and even live classes for people who may be experiencing "Lockdown" due to Covid-19.
Who is Considered the Best Classical Violin Player?
With so many talented classical violinists over the years it is hard to say who is the best. However, there are some musicians who stand out above the many. Many consider the following to be the top five classic violinists of all time:
Jascha Heifetz: Considered by many to be THE best, with his over 60-year career beginning at the age of five and a very impressive Carnegie Hall debut at the age of sixteen, which won praise from the concert goers and critics alike. His performances over a glittering career has also helped inspire other classical musicians to emulate him still to this day.
Itzhak Perlman: With a huge following across the globe many people consider him to be the most iconic classical violin player and composer of all time

.

Since

his childhood, he has been entertaining audiences and has received numerous awards for his contribution to classical music.

Friedrich "Fritz" Kreisler: The Austrian born artist with his unique style and passion for violins, also has the talent of being a great composer widely respected throughout the classical music world. In 1925 he was

featured on the cover of Time magazine

in recognition of the contribution of his music.

Hilary Hahn: The youngest on the list being only 42 years of age, Hilary Hahn was considered a child prodigy by the age of 16. She has been recording classical music for years, earning a Pulitzer Prize and countless other awards.
Niccolo Paganini: the Italian composer, violin master is among the best of all time. Beset by personal problems, alcoholism, and gambling being his main vice, he still managed to gain worldwide recognition and fame long before modern communication was invented. His techniques are still studied and used today.
There are so many more classical artists that could be included, who have helped shape the violin playing that we enjoy today, whom without their groundbreaking skills the world of classical music would not be the same today.
The 5 Violinists Producing and Playing Popular Music Today 
Whilst many people consider the violin to be a classical instrument, certain artists have developed their talents to play with a modern twist. Generally using an electric violin many bands and artists including U2, Frank Zappa, The Verve, The Dave Matthews Band, Guns And Roses, and ELO have all famously incorporated the violin into their music, helping to create worldwide hits. Some of the more well-known artists include: 
Shadmehr Aghili: Born in Tehran, Iran, and emigrating to Canada at an early age, Shadmehr has embraced the use of the violin for music ranging from Hip Hop, Pop Music, and Western Classical. Currently residing in Los Angeles, he has definitely made a name for himself in the music world.
John Creach: A celebrated musician that has performed with an illustrious list of Blues and Rock artists including, The Grateful Dead, Louis Armstong, Big Joe Turner, and Charles Daniels. John Creach was also included in the lineup of Jefferson Airplane helping bring the violin to a wider audience.
Scarlet Rivera: This talented artist who already had a solo career was discovered by Bob Dylan in a chance encounter in a New York street whilst carrying her violin and was invited after a brief conversation to join him in a studio session. Contributing to the highly successful album Desire. Playing also Celtic, Rock, and New Age music she had an influence in the 1970s music scene.
Stephane Grappelli: Often referred to as the "grandfather of Jazz violinists" and working with British band Pink Floyd on the track "Wish You Were Here" one of the band's most loved songs. The French-born violinist played well into his eighties all around the world with his passion for Jazz music never wavering.
Steve Wickham: An Irish musician that was a member of the Water Boys and also played with U2, Hothouse Flowers, Sinead O'Connor and, Elvis Costello helped to produce some of the most famous songs in the traditional Irish and Rock scenes of the day, most notably the classic U2 song "Sunday Bloody Sunday"
These musicians proved that the violin is not just a classical instrument and has a strong relationship with the modern music trends of today. 
Choosing the Right Violin for You
With many different shapes and sizes of violins, it is important to choose the best one for you. Depending on the style of music you intend on playing will determine which one to buy. Violins have traditionally been seen as an expensive instrument that parents for example are reluctant to purchase for their children due to many children giving up the practice after a short space of time. Now there are cheaper and yet still good quality violins that can be purchased still producing a good sound featuring quality woods such as Spruce and Maple.
Violins come in different sizes and it's important that you get the right one. Consider asking a friend who is already playing the violin and ask them to accompany you to the music store and help you buy what is best suited to you, likewise asking your music teacher or instructor for advice is a great idea. If your intention is to play classical music then choosing a good traditional style violin may be best for you but if you want to play a more modern violin then maybe an electric version is the way forward, although both options have been used in many different styles of music.
Conclusion
The violin is one of the most popular instruments being played around the world today even 400 hundred years after it was invented and has helped introduce classical music to many and encouraged so many people to get involved with music who may not have discovered the talent they have. The use of the violin in modern Jazz, Rock, or Hip-Hop music has brought it to the attention of a younger and more diverse generation.